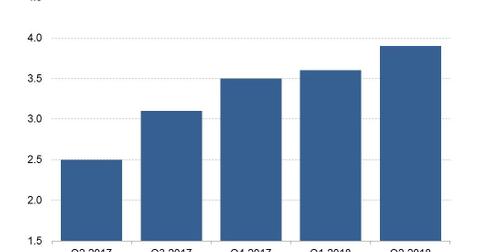 Why Baidu Is Keen on Japan's Self-Driving Market
By Neha Gupta

Updated
There's strong awareness about self-driving in Japan
Baidu (BIDU) has partnered up to introduce its Apolong self-driving minibus in Japan next year. The company has begun the mass production of Apolong, saying last month that it had already manufactured 100 units of the vehicle in collaboration with Chinese bus manufacturer King Long.
Baidu intends to launch Apolong in Japan early next year in partnership with a SoftBank (SFTBY) subsidiary known as SB Drive. SoftBank is also an investor in Uber, another company that's building self-driving vehicles.
Article continues below advertisement
Japan is one of the Asian countries in which there's strong awareness of self-driving technology. At least 66% of Japanese Internet users have heard about self-driving, according to a McKinsey survey. Japan is vying alongside the United States and China to be a leader in 5G (fifth-generation) technology, which promises faster connection speeds and can unlock the potential of self-driving technology.
Fruit of investment in AI research
The fully self-driving Apolong minibus is the fruit of Baidu's commitment to AI research. The company has said that it spends ~15% of its annual revenue on research, with almost its entire budget going toward AI-related research work.
Unlocking new revenue streams
Baidu is investing in technology such as AI to both strengthen its core advertising business and unlock new revenue streams. For example, the company is expecting to make money from licensing its Apollo self-driving platform to automakers, which would see it diversify beyond advertising.
Baidu's revenue rose 32% YoY (year-over-year) to $3.9 billion in the second quarter. Alphabet (GOOGL), Facebook (FB), and Twitter (TWTR) grew their second-quarter revenues by 25.6%, 42%, and 23.8% YoY, respectively.