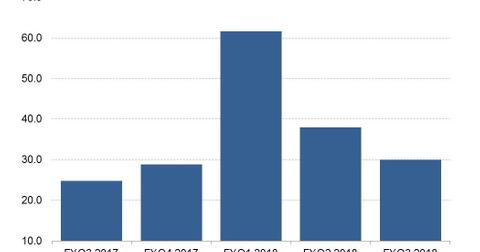 Why Apple Is Reluctant to Lease $145 Million to WiLAN
By Ruchi Gupta

Updated
Apple rejects infringement claims
Apple (AAPL) said it would challenge a recent jury verdict that said it infringed on WiLAN's patents and must pay $145.1 million in damages. WiLAN is a subsidiary of Quarterhill (QTRH), which is focused on patent licensing. Quarterhill stock rose ~30% after reports reached the market that its subsidiary had been awarded millions of dollars in a patent case against Apple.
A US federal jury in California earlier this month said that certain iPhones infringed on two WiLAN patents. The patents relate to wireless communications technology. Apple rejects the infringement claims and plans to appeal the decision.
Article continues below advertisement
Apple has prevailed against WiLAN before
Apple has been victorious before in a patent dispute with WiLAN. In 2013, Apple successfully defended itself against WiLAN's patent infringement claims and subsequently avoided $248 million in damages.
The iPhone, which is at the center of WiLAN's patent infringement claim, is Apple's largest business, contributing 56% of its overall revenue in the quarter that ended in June, which is Apple's fiscal Q3 2018. Its iPhone revenue increased 20% year-over-year to $29.9 billion in the quarter.
IBM awarded $83 million in patent case
Patent disputes are not uncommon, and Apple is not the only company fighting claims over violations of intellectual property rights. Last month, a jury ruled that Groupon (GRPN) infringed on several International Business Machines (IBM) patents. The jury awarded IBM $82.5 million in damages and created an opportunity for IBM to ask the judge to increase its award up to three times because Groupon's infringement was found to be intentional.
BlackBerry (BB) has sued Facebook (FB) and Snap (SNAP) for allegedly violating its patents. In retaliation, Facebook and Snap are seeking to invalidate those patents.