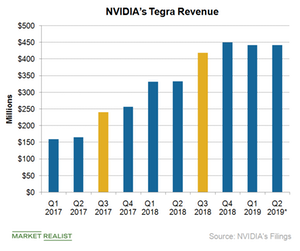 What's Going on with NVIDIA's Tegra Business?
By Puja Tayal

Aug. 7 2018, Updated 4:45 p.m. ET
NVIDIA's products
NVIDIA (NVDA) expects to earn revenue of $3.1 billion in the fiscal second quarter of 2019 driven by strong demand in the data center and gaming space. 
The company earns more than 80% of its revenue from its core GPU (graphics processing unit) business, 15% from its Tegra SoC (system on chip), and the remaining 5% from OEMs (original equipment manufacturer) and IP (intellectual property).
Article continues below advertisement
NVIDIA's Tegra business
The Tegra SoC is a low-power processor used in devices that demand power efficiency. NVIDIA originally developed Tegra for tablets but failed to compete with Qualcomm's Snapdragon SoC. It then leveraged the SoC in its SHIELD TV platform, game consoles, and DRIVE autonomous car platform.
NVIDIA's Tegra business picked up in the fiscal third quarter of 2017 when it started supplying SoCs to Nintendo's Switch game console. Tegra's revenue grew from $160 million in the fiscal first quarter of 2017 to $442 million in the fiscal first quarter of 2019, a rise of 175% in two years. For the fiscal second quarter of 2019, we expect NVIDIA's Tegra revenue to remain sequentially flat at $442 million.
Game console
Because of its exposure in the game console market, the fiscal third quarter is a seasonally strong one for Tegra, during which it reports more than 20% sequential growth. Even Advanced Micro Devices (AMD), a leader in the game console processor market, reports its highest revenue in the fiscal third quarter. However, the lengthy refresh cycles of game consoles slow its revenue growth rate every year as product refreshes create new growth.
Automotive
Apart from game consoles, NVIDIA is using its Tegra SoC in its DRIVE automotive platform. The revenue from this market has been low, as the company is still in the development stage. However, it's expected to act as a growth catalyst for Tegra's revenue once autonomous vehicles hit the road.
Next, we'll look at NVIDIA's GPU revenue.