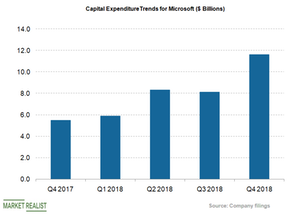 What's Driving Microsoft's CapEx Road Map?
By Aaron Hemsworth

Sep. 4 2018, Updated 1:00 p.m. ET
Reasons for higher capital expenditure
Microsoft (MSFT) has witnessed strong growth in its capex, driven by significant investment in its business units—particularly Azure Cloud, Surface devices, and Xbox gaming hardware. This investment is helping the tech giant achieve its quarterly targets.
Microsoft's investment is mostly targeted toward capex growth. Continuous change in the IT industry, driven by the launch of new product and services, may pressure the company's capex. In order to remain competitive and to retain its market share, the company is incurring significant expenses related to new innovations.
Azure Cloud is the company's focus area for investment, as Microsoft's businesses are all connected to its cloud. According to Gartner, Microsoft's Cloud segment is expected to grow at a CAGR (compound annual growth rate) of 18.5% from 2017 to 2021 and is expected to reach $302.5 billion.
Article continues below advertisement
Capex trends and peer comparison
In the graph above, we can see the capital expenditure growth for Microsoft in the last five years. The company's average capex was ~$7.9 billion per year. The company's average capex-to-sales ratio in the last five years stood at ~30.0%.
Microsoft's capex demonstrated an increasing trend in the last three years, driven by higher investment in Azure Cloud. The company spent ~$13.6 billion in fiscal 2018, including assets bought under capital lease, compared with $10.2 billion in fiscal 2017.
In the last five years, IBM (IBM) and Oracle (ORCL) incurred average capex of ~$3.7 billion and $1.4 billion, respectively.