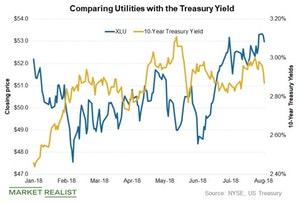 Utilities: What If Jamie Dimon's Forecast Comes True?
By Vineet Kulkarni

Nov. 20 2020, Updated 11:40 a.m. ET
Interest rates and utilities
Last week, Jamie Dimon, JPMorgan Chase's chairman and CEO, said that investors should be prepared to deal with ten-year Treasury yields reaching 5% or higher, according to CNBC. Currently, Dimon expects the yields at 4% due to the strengthening economy.
Ten-year Treasury yields are usually seen as a benchmark for mortgages and other loans. The estimated rise could make loan repayments more expensive considering Dimon's view. Interestingly, higher costs could be a double whammy for utility investors. Higher debt servicing costs could dent utilities' profitability. Higher Treasury yields would also make utility stocks less attractive.
Dimon's latest outlook on benchmark yields is even higher than his previous forecast. However, the ten-year Treasury yields closed at 2.8% last week. Investors should track Treasury yield movements because utility stocks and Treasury yields usually trade inversely to each other.
Article continues below advertisement
Investors usually prefer utilities (XLU) (IDU) due to their relatively higher yields and stable stock movements. Currently, utilities yield ~3.3%, which is a premium of 40–50 basis points over benchmark Treasury yields. The yield premium has fallen in 2018 due to the notable increase in Treasury yields. However, there are many utility stocks that offer higher yields than utilities' average. Read Do You Own Any of These Top-Yielding S&P 500 Utilities Stocks? to learn more.