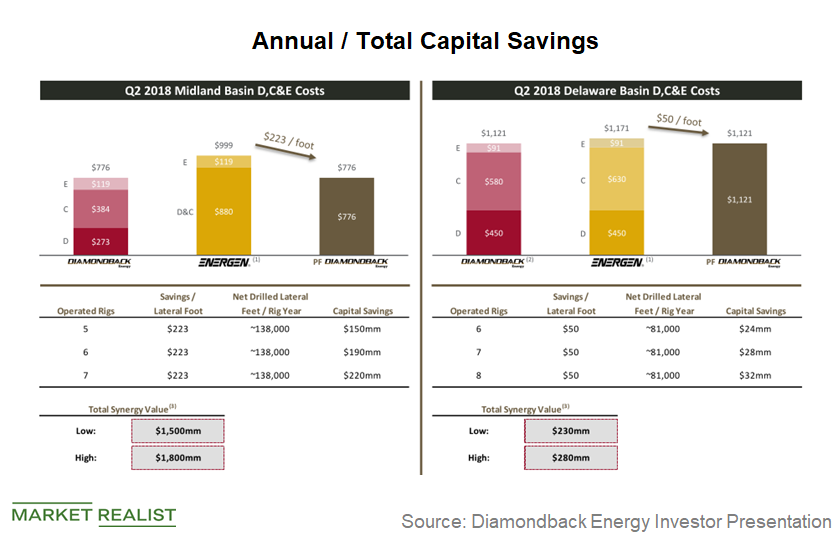 The Expected Synergies from the Diamondback–Energen Deal
By Kurt Gallon

Aug. 28 2018, Updated 2:45 a.m. ET
Primary synergies
In the previous article, we looked into the pro forma production for Diamondback Energy (FANG). In this article, we'll look into the expected synergies from the combination of the two Permian producers.
Diamondback Energy expects $205.0 million–$310.0 million of annual savings following the completion of the merger with Energen Corporation (EGN). The primary annual savings include:
D, C&E (drilling, completion & exploration) costs range from ~$150.0 million–$220.0 million savings in the Midland Basin. The company expects to reduce Energen Corporation's D, C&E cost from $999 per lateral foot to $776 per lateral foot, which is Diamondback's current D, C&E cost. This implies $223 per lateral foot of annual savings.
General & administrative expenses range from $30.0 million to $40.0 million.
Interest savings range from $25.0 million to $50.0 million.
The total primary synergies from the merger are expected to be $2.02 billion–$2.62 billion.
Article continues below advertisement
Secondary synergies
The company expects up to $1.0 billion of total secondary synergies from the deal. This includes $50 per lateral foot D&C (drilling & completion) savings in the Delaware Basin, higher salt water disposal capacity, improved lease operating expense (or LOE), and substantial mineral ownership. We'll look more into this in the next article.