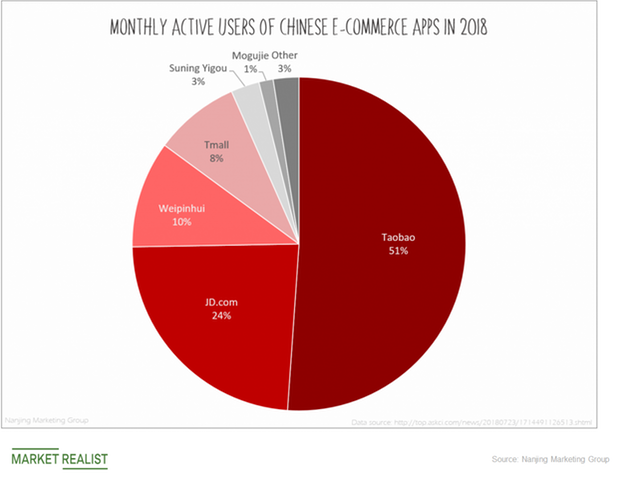 Significant Partnerships of China's Leading e-Commerce Companies
By Amanda Lawrence

Aug. 22 2018, Updated 12:00 p.m. ET
Significant e-commerce alliances
Let's investigate some of the significant partnerships that continue to keep e-commerce companies in the news.
Article continues below advertisement
Tencent's and JD.com's strategic alliances
Top Chinese Internet value-added service providers Tencent (TCEHY) and JD.com announced an investment worth $863 million in China's online discount retailer, Vipshop (VIPS), in December 2017. The investment will entitle Tencent and JD.com to 7% and ~6% stakes in Vipshop, respectively.
Tencent and China's major online-to-offline commerce Internet retailer, Suning Holdings Group, along with JD.com and China's top real estate developer, Sunac China Holdings Group, formed an agreement with leading commercial property company Dalian Wanda Commercial Properties in January. The arrangement involved the acquisition of a 14% equity stake in Dalian Wanda Commercial Properties for 34 billion Chinese yuan. The alliance will allow Dalian Wanda Commercial Properties to utilize its commercial assets and Tencent's, Suning's, and JD.com's online resources for enhanced online and offline shopping services for Chinese consumers.
JD.com partnered with iQiyi (IQ) in April to offer premium service memberships for either iQiyi or JD.com customers.
In the second quarter, Japanese retail company MUJI launched its store on JD.com, and Switzerland's premium watch brand Carl F. Bucherer launched its online store on JD.com. In July, Spanish luxury brand Balenciaga joined JD.com's luxury platform, Toplife, to drive JD.com's omnichannel tactics in China.
JD.com's joint venture, Dada-JD Daojia, is collaborating with more than 200 Walmart (WMT) stores and 500 Yonghui stores to deliver fresh groceries ordered online as of July 31. JD.com has also partnered with QuMei Home Furnishing Group in August to facilitate interactive shopping in QuMei's offline outlets.
Alibaba's collaborations
Alibaba (BABA) announced an investment worth 5.5 billion yuan in February for ownership of a 15% stake in Beijing Easyhome Furnishing Chain Store Group. Alibaba also announced its plans to acquire a 33% ownership in Ant Small and Micro Financial Services Group in February.
Alibaba announced an additional investment worth $2 billion in Southeast Asia's leading e-commerce platform Lazada Group in March. It decided to fully acquire Chinese online delivery platform Ele.me in April.
Alibaba and its logistics affiliate Cainiao Network announced an investment worth $1.4 billion in ZTO Express for 10% ownership in the express delivery company in May. Alibaba partnered with Siemens to drive industrial Internet of Things technology in China in July.
Alibaba also joined forces with Starbucks (SBUX) to drive China's coffee industry.