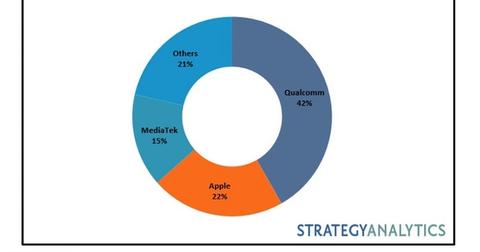 Qualcomm's Position in the Application Processor Market
By Amanda Lawrence

Aug. 3 2018, Published 2:10 p.m. ET
A look at the SoC market
In the previous part of this series, we looked at Qualcomm's (QCOM) key segments and its geographic revenue exposure. In this part, we'll look at its progress in the AP (application processor) market. APs are tailor-made SoCs (systems on a chip) to support applications running in a mobile operating system setting.
SoCs combine the vital electronic circuits of a smartphone or various computer components into a single, integrated chip. According to Transparency Market Research, the SoC market has been projected to grow to $207 billion at an 11% CAGR (compound annual growth rate) between 2018 and 2026. The market growth has been and will continue to be driven by the smartphone and networking device application industries. Consumer electronics, telecommunications, and healthcare industries have been the key adopters of SoC technology and will continue to drive demand. Gaming consoles and digital camera applications are also expected to drive further demand growth.
Apple (AAPL), Broadcom (AVGO), Intel (INTC), and Qualcomm (QCOM) are some of the key players in the market. Qualcomm's Snapdragon is a collection of SoC semiconductor products for mobile devices.
According to Strategy Analytics, the smartphone AP market declined 5% to $20.2 billion in 2017.
Article continues below advertisement
About 14% of smartphone AP consignments were generated by 10 nm (nanometer) smartphone APs. Apple, HiSilicon, Qualcomm, and Samsung were the major market players.
The 64-bit smartphone AP consignments grew 15% in forming 88% of smartphone AP consignments.
Octa-core chips formed more than 40% of the smartphone AP consignments.
Qualcomm accounted for 42% of the smartphone AP market in 2017 against 39% in the first half of 2016, according to Statista. The success is credited to AP Snapdragon 835 and mid-range 600-series APs. Apple came next with a market share that grew from 15% in the first half of 2016 to 22% in 2017, overtaking MediaTek.