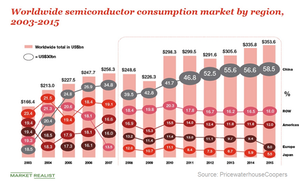 NXP's CEO Blames International Politics for Failed Qualcomm Deal
By Puja Tayal

Aug. 1 2018, Updated 2:35 p.m. ET
NXP's reaction to the failed deal
Qualcomm (QCOM) walked away from its acquisition of NXP Semiconductors (NXPI) after it failed to secure approval from China's (MCHI) SAMR (State Administration for Market Regulation).
In an interview reported by the New York Times, NXP's CEO, Richard Clemmer, expressed his disappointment with the SAMR, stating that Qualcomm and NXP had met all the government requirements. To address the antitrust concerns raised by the SAMR, the two companies had agreed to undisclosed concessions and suggested remedies the authorities had agreed to.
Article continues below advertisement
Clemmer blamed Chinese authorities for not providing a reason for the delay of the deal's approval. He also suggested that the deal had been canceled not because of antitrust issues but because of "international politics." He added that such uncertainty would discourage NXP from participating in such cross-border transactions in the future.
Cancellation of the deal could discourage mergers and acquisitions 
Clemmer's comments were reiterated by some industry analysts, who stated that tech companies—especially semiconductor companies—were awaiting the outcome of the Qualcomm-NXP deal before taking up acquisitions. Because China is the world's largest consumer of semiconductors and smartphones, it's the most significant regulator for tech companies.
The cancellation of the biggest semiconductor acquisition might discourage other companies from undertaking cross-border acquisitions.
To ease these concerns, China's SAMR stated that it had delayed the Qualcomm-NXP deal due to antitrust concerns that were left unaddressed. The regulator made assurances that China would give fair treatment to all companies and encouraged foreign companies to invest and operate in the country.
The technology industry is at the center of the US-China trade war, and the cancellation of the Qualcomm-NXP deal will likely only aggravate tensions between the two countries. Next, we'll see the possible effects of the failed deal on the trade war.