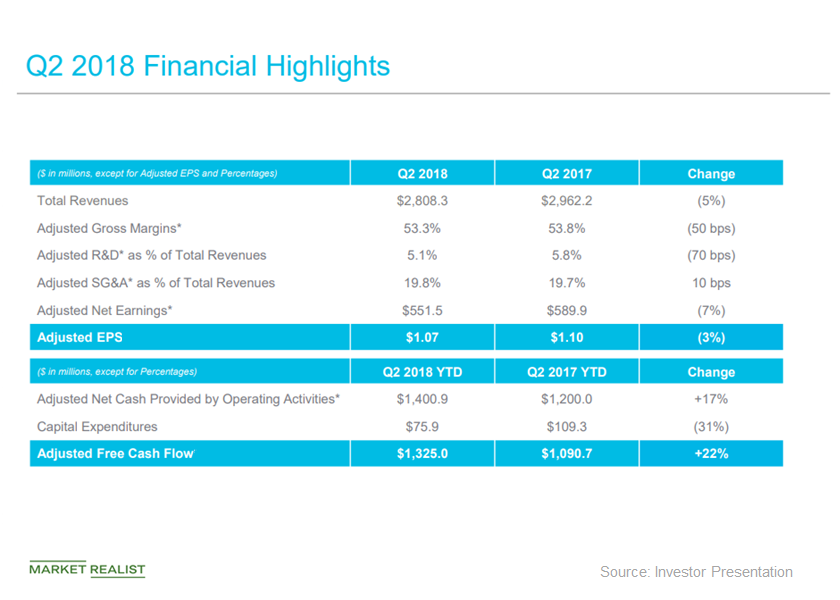 Mylan's Morgantown Restructuring and Remediation Program
By Sarah Collins

Nov. 20 2020, Updated 4:25 p.m. ET
Mylan's Morgantown restructuring and remediation program
For the second quarter, Mylan (MYL) recorded expenses of $87 million related to the restructuring and remediation program it undertook in the quarter for its flagship Morgantown, West Virginia, facility. These charges had some impact on the company's second-quarter performance, as highlighted in the chart below. According to Mylan, the program is aimed at reducing the complexities at the facility and simplifying the operations.
The company started the program after an inspection by the FDA that was conducted over 12 days in March and April/ and the FDA cited manufacturing issues at the Morgantown facility of Mylan. 
Article continues below advertisement
After the inspection in April, Mylan announced that it expects to lay off ~15% of its employees at the Morgantown plant. The FDA had issued Form 483 to Mylan following the inspection requiring the company to address 13 observations made by the regulator. The FDA stated on the Form 483 that it "observed numerous instances of a lack of appropriate oversight by the Quality Unit." 
On June 28, Mylan issued a statement regarding its Morgantown operations and said the company has submitted a comprehensive response to the FDA addressing the issues cited in its Form 483. The company added that it's committed to a robust improvement plan for its Morgantown facility.
Mylan's restructuring plan and impact on business
Mylan's Morgantown restructuring and remediation program comprises discontinuing certain products on the basis of profitability, market competition, and pricing dynamics. However, the company is mindful of not exiting in categories that might witness drug shortages in that case. 
The company said during its second-quarter earnings release that the program has had a negative impact on its operations, production levels, and product supplies in the quarter. This is expected to continue for the rest of 2018. However, over the long term, it expects to further strengthen the Morgantown facility performance.
During its August 8 second-quarter earnings call, the company noted that it was already looking to "rightsizing" the Morgantown facility, which was a part of the company's plan.
In the next article, we'll take a look at Mylan's second-quarter profitability.
Be sure to check out all the data we've added to our quote pages. Now you can get a valuation snapshot, earnings and revenue estimates, and historical data, as well as dividend information. Take a look!