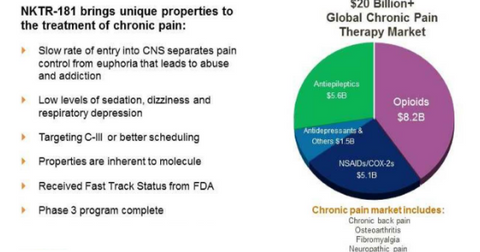 Multiple Product Pipeline Catalysts Bode Well for NKTR
By Kenneth Smith

Updated
Pipeline developments
In July, Nektar Therapeutics' (NKTR) new drug application for NKTR-181 was accepted for filing by the FDA. A first-in-class analgesic, NKTR-181 is targeted at the treatment of chronic low back pain in adult patients who are new to opioid therapy.
The target action date for the application has been set for May 29, 2019. In data presented by the company in June, NKTR-181 consistently demonstrated low abuse potential.
Nektar is focusing on creating a separate subsidiary with one or more partners to launch NKTR-181. The company expects this option to help it capture the maximum value of the drug while simultaneously allowing it to focus on developing its immuno-oncology and immunology pipelines.
Article continues below advertisement
Nektar Therapeutics presented data from the Phase 1 dose escalation and preliminary data from the Phase 2 dose expansion phase of its ongoing Pivot study for NKTR-214 in combination with Opdivo at the 2018 ASCO Annual Meeting in June. The data showed that the prespecified efficacy criteria were met in first-line melanoma, first-line renal cell carcinoma, and first-line urothelial cancer treatments. Further, Nektar and collaboration partner Bristol Myers Squibb (BMY) plan to begin a Phase 3 registration trial for first-line advanced melanoma patients in the third quarter.
Collaboration with Syndax Pharmaceuticals
Nektar Therapeutics also plans to start two additional trials for NKTR-214 by the end of this year. The first of these trials, a Phase 1 study, will evaluate NKTR-214 with Takeda's TAK-659 in patients with non-Hodgkin's lymphoma. The second trial, a Phase 1 study, will evaluate NKTR-214 with Syndax Pharmaceuticals' entinostat in patients with metastatic melanoma.
Nektar Therapeutics entered into a clinical collaboration with Syndax Pharmaceuticals in May to evaluate NKTR-214 in combination with entinostat.
We'll explore Nektar Therapeutics' immunology program and valuation metrics next.