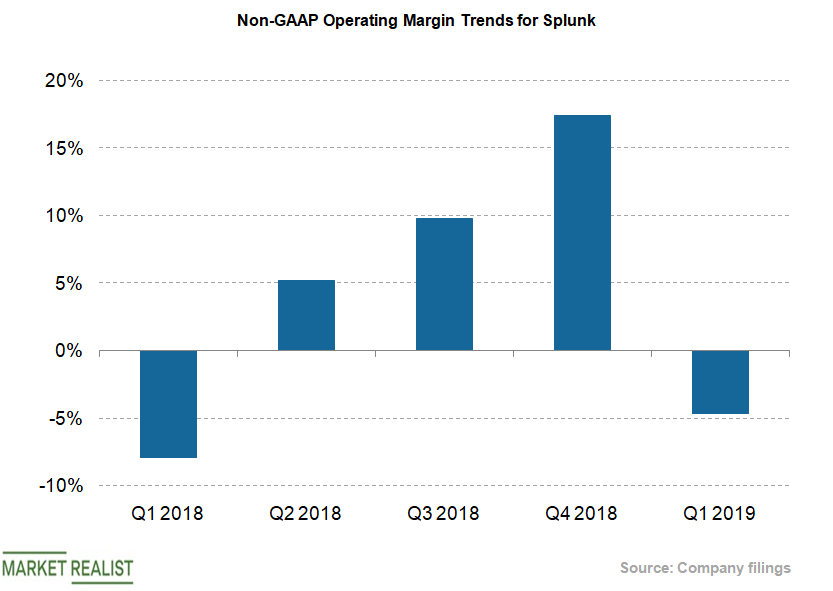 Is Splunk Capable of Achieving Its Operating Margin Target?
By Aaron Hemsworth

Aug. 17 2018, Updated 12:35 p.m. ET
Operating margin outlook
Splunk (SPLK) expects its non-GAAP (generally accepted accounting principles) operating margin for the fiscal second quarter of 2019 to be ~2%, lower than its operating margin of 5.2% in the fiscal first quarter of 2018 but better than its operating margin of -4.7% in the fiscal first quarter of 2019.
Similarly, for fiscal 2019, the company expects its operating margin to be 11.5%, unchanged from its previous outlook.
In the graph above, we can see the company's operating margin trend in the last five quarters. During the period, it witnessed operating losses in two out of five quarters.
Article continues below advertisement
Identifying margin headwinds
Splunk continues to incur higher sales and marketing expenses driven by the increased penetration of its products in international markets. In the last five quarters, the company's sales and marketing costs have risen at a CAGR (compound annual growth rate) of 6.4%. At the end of the fiscal first quarter of 2019, its sales and marketing expenses climbed 28.1% YoY (year-over-year) to $269 million.
The company's cost of revenue also increased 34.5% YoY to $78 million mainly due to higher employment growth. For Splunk, staff growth is extremely necessary for providing better maintenance support to its clients.
Splunk is investing in research and development costs to offer more innovative products, including Splunk Insights for Infrastructure, Splunk Enterprise, and Splunk Cloud 7.1, which in turn may help the company retain its customer base and offset its margin losses.
The company's research and development costs in the fiscal first quarter of 2019 increased 21.1% YoY to $86 million. Moreover, its teaming up with Amazon's (AMZN) AWS (Amazon Web Services) Cloud service could reduce its software delivery costs and contribute to its margin growth.