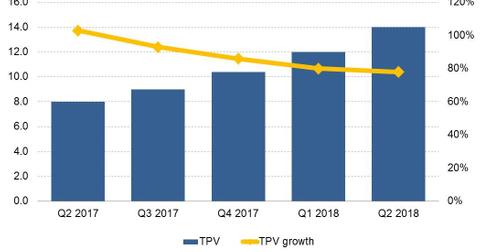 Is PayPal Worried about Venmo's Slowing Volume Growth?
By Neha Gupta

Updated
Venmo volume growth slows to 78%
PayPal's (PYPL) Venmo payment volume growth is slowing. According to performance reports PayPal has put out in recent quarters, Venmo's total payment volume (or TPV) growth rate has been doing down for at least the last five quarters.
In the second quarter, Venmo TPV rose 78% YoY (year-over-year) to $14 billion, which was down from 80% growth in the first quarter and 86% growth in the fourth quarter of 2017. Still, PayPal sees no cause for alarm. The company has said that Venmo actually had its best quarter in terms of user acquisition in the second quarter, adding more new users than it ever did in the past. Furthermore, with Venmo handling roughly $46 billion in payments at an annual run rate, PayPal says few services of that same size are growing at Venmo's pace.
Article continues below advertisement
Competition intensifying
Venmo's growth rate is getting a lot of attention lately because of intensifying competition in its P2P (person-to-person) payments sector. Square (SQ) has continued to enhance its rival service Square Cash App, introducing the ability for users to spend or withdraw their funds using a debit card. Cash App users can also buy and sell bitcoin on the platform for a profit.
Apple's Apple Pay also continues to see increased adoption. Zelle, the mobile payment service backed by several banks, is also competing with PayPal's Venmo in the P2P payments market. Zelle handled $28 billion in payments in the second quarter, but that was up just 12% sequentially, while Venmo's volumes rose 16.7% sequentially.
JPMorgan among Zelle backers
JPMorgan (JPM), Bank of America (BAC), and Wells Fargo (WFC) launched the Zelle precursor in 2011, but it wasn't a hit. The lenders rebranded and re-launched the service as Zelle last year, and more banks joined the network. Revenue rose 11.2% YoY for JPMorgan in the second quarter, while Bank of America and Wells Fargo recorded revenue declines of 2.7% and 1.5% YoY, respectively, in that period.