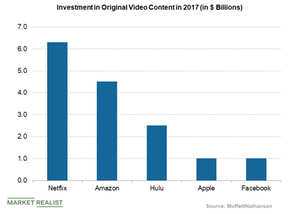 Is Amazon Eyeing a Movie Theater Chain to Grow Its Empire?
By Sophia Nicholson

Aug. 20 2018, Updated 12:25 p.m. ET
Amazon wants to buy Landmark Theatres
Internet giant Amazon (AMZN) is reportedly seeking to acquire Landmark Theatres, a chain of movie theaters, to build its own movie portfolio and attract customers to its Amazon Prime subscription. According to Bloomberg, citing anonymous sources, the online retail giant is seeking to acquire the theater chain from Wagner/Cuban Cos., which is backed by Tom Wagner and Mark Cuban.
Article continues below advertisement
How important is the Landmark Theatres acquisition for Amazon?
Founded in 1974, Landmark Theatres is one of the largest movie theater chains in the United States, with more than 50 theaters in locations such as New York, Philadelphia, Chicago, Los Angeles, and San Francisco. The potential acquisition of Landmark Theatres could help Amazon push into the brick-and-mortar cinema market.
Netflix (NFLX) is also reportedly a competitor and interested party in purchasing Landmark Theatres. The news raised concerns for cinema stocks AMC Entertainment Holdings (AMC) and Cinemark Holdings (CNK), which fell 2.2% and 0.8%, respectively, in the pre-market session on Thursday, August 16.
Currently, Amazon doesn't own any movie theaters but has been spending billions per year on original movies and TV shows to draw consumers to its Amazon Prime subscription plan. According to reports, its interest in buying Landmark comes after the US government is considering easing restrictions on film studios entering the theater industry. Currently, Wagner/Cuban is evaluating the acquisition offer, which might not even materialize.
Rising popularity of online video streaming services
As we know, consumers are drifting away from traditional cable TV to cheaper online video streaming services provided by dominant players such as Netflix and Amazon Prime. However, the online video streaming space is getting saturated since many companies are trying to grab their share of the growing streaming industry. Streaming giants such as Netflix, Amazon, and Hulu are thus investing billions to acquire original content to attract customers.
In 2017, Netflix spent ~$6.3 billion on original programming, while Amazon invested ~$4.5 billion. Hulu invested ~$2.5 billion on content in 2017, while Apple and Facebook (FB) have each allocated ~$1 billion to acquire new content.