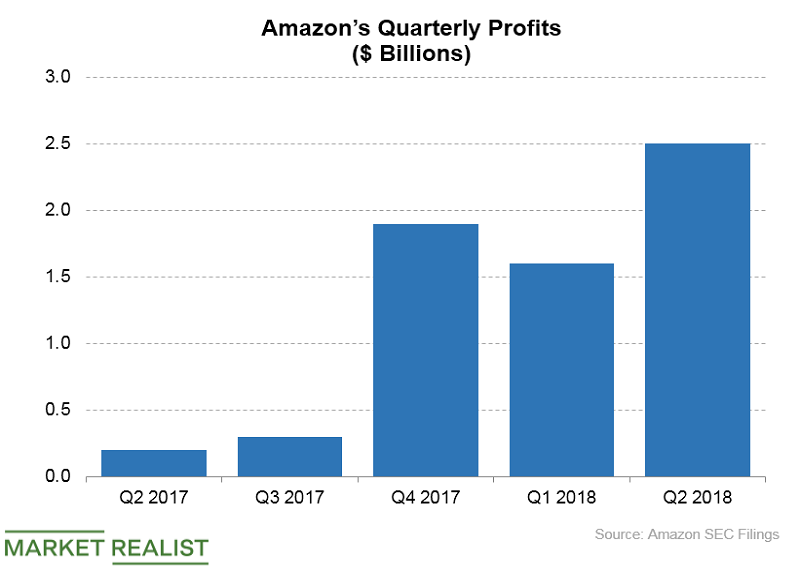 How Would Amazon Benefit by Dropping Oracle Databases?
By Neha Gupta

Aug. 14 2018, Updated 7:30 a.m. ET
Amazon could move away from Oracle by 2020
About a week after Amazon (AMZN) reported record quarterly profits for the second quarter, CNBC carried a story that said Amazon was close to moving completely off Oracle (ORCL) databases. Amazon would rely exclusively on its internally developed database technologies.
Amazon declined to comment for the CNBC story, but the story cited confidential sources that said Amazon was on track to move away from Oracle databases by 2020. Amazon has long been linked to plans to abandon Oracle's proprietary database software. In January, The Information also reported about Amazon's plan to discontinue its use of Oracle.
Article continues below advertisement
Oracle believes total Amazon exit won't be easy
Amazon's reason for reportedly wanting to move away from Oracle is that it believes that Oracle's database technology is unable to scale to meet its growing performance needs. So, it appears Amazon believes that the database technologies it has developed would be better suited to meet its needs.
However, Oracle says that it won't be easy for Amazon to move away from its database technology. According to Oracle, it wouldn't be cost-effective for Amazon to rely exclusively on its internal database technologies.
SAP SE (SAP) is another large enterprise software company that relies on Oracle database software. Oracle says SAP has tried and failed to discontinue the use of its database technology.
Cloud competitors
Amazon and Oracle compete in the cloud computing market. So, growing competition between the two could also be behind Amazon's desire to move away from  Oracle's database technology.
Amazon posted a profit of $2.5 billion in the June quarter, a record for the company. Its cloud competitors Microsoft (MSFT) and IBM (IBM) posted profits of $8.9 billion and $2.4 billion, respectively, in the June quarter. Oracle posted a profit of $3.4 billion in its fiscal fourth quarter, which ended in May.