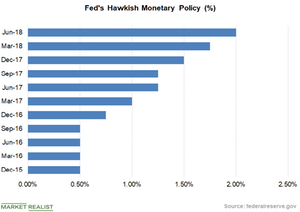 Fed's Hawkish Monetary Policy to Drive Banks' Profitability
By Anirudha Bhagat

Updated
Rising interest rates
Since the Great Recession of 2007–2009, the Federal Reserve has kept its federal funds rate near zero. However, with improving economic fundamentals as depicted by the strong job market and impressive economic growth, the Fed decided to raise interest rates in 2015. The central bank raised interest rates to 0.25% from 0.0% in December 2015, the first time since the Great Recession officially ended in mid-2009.
Since 2015, the Fed has raised interest rates seven times with one hike each in 2015 and 2016, three in 2017, and two in 2018. The central bank is planning another two hikes this year, which would bring the fund rates to 2.5% from the current level of 2.0%.
Article continues below advertisement
How banks could benefit from the rate hike
High interest rates lead to a higher net interest income. Banks lend on a long-term basis and borrow on a short-term basis. Since the inception of Federal Reserve in the early 20th century, it has been seen that long-term rates tend to increase faster than short-term rates.
In a rising interest rate situation, banks can reprice their loans and investments faster than their customers' deposits and short-term borrowings. This scenario leads to a higher spread between the federal funds rate and the interest rate bank charges from its customers, thereby increasing their profitability.
To mitigate the effects of the Great Recession, the Fed took the interest rates to an all-time low of 0.25% in December 2008. This took a toll on banks' interest income until December 2015, when the central bank started raising interest rates.
At the current 2.0% rate, the Federal funds rate is still very low when compared with the pre-recession rate of 5.25% in June 2006. The hikes since December 2015 are resulting in an improvement in banks' net interest margins.
Among the major banks, Wells Fargo (WFC), Citigroup (C), Fifth Third Bancorp (FITB), and KeyCorp (KEY) registered sequential improvement of nine basis points, eight basis points, three basis points, and four basis points, in their respective second-quarter 2018 net interest margins. These four stocks together make up ~14% of the Financial Select Sector SPDR Fund ETF (XLF).
With two hikes still awaited this year, banks are expected to see further improvement in their net interest margin. *Therefore, it makes sense for investors to stay invested in the bank stocks to take advantage of any after-earnings surge in these stocks.