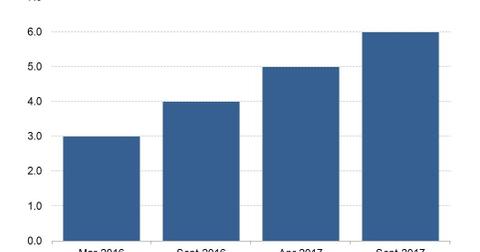 Facebook Begins Testing Its Dating Service
By Neha Gupta

Updated
Testing among US employees
Facebook (FB) has begun testing the online dating service it announced during its annual developer conference in May. The company is initially testing the service among its own employees in the United States before possibly rolling out a public test later. The purpose of the internal test is to allow Facebook to gain insight into the end-to-end experience of the dating service, the Verge reported.
The dating service will be offered within Facebook's main social network, but users will be able to create a separate profile for dating purposes.
Article continues below advertisement
Facebook doesn't intend to charge for the use of its dating service, nor does it intend to run ads alongside dating profiles. Therefore, it's currently unclear how the company plans to monetize the service. Match Group (MTCH), which runs dozens of hookup apps, including Tinder, offers paid and free ad-supported service plans.
200 million single people on Facebook
Even without charging people to use its dating service or showing ads in dating profiles, Facebook can still benefit in several ways from offering a free dating service. The company says there are more than 200 million people on its main platform who list their status as single.
This group may find a native Facebook dating service useful, and the service could encourage them to spend more time on Facebook overall, potentially allowing the company to maximize audience reach for its advertisers. This increased audience reach may, in turn, help Facebook attract more advertisers to its platform.
The company last disclosed that it serves ~6.0 million active advertisers compared to Baidu's (BIDU) 511,000 advertisers and Yelp's (YELP) 194,000 advertisers.
Advertisers are drawn to Facebook because of its audience
Facebook's offering a dating service could help it bring more people to its platform, allowing it to grow its user base. As much as the likes of Snap (SNAP) and Twitter (TWTR) have emerged as serious competitors for Facebook in the digital advertising industry, advertisers are still willing to pay to reach a larger audience, which is an advantage for Facebook, as its main social network alone reaches more than 2.2 billion people.
Facebook made over $13 billion in advertising revenue in the second quarter compared to Twitter's $601 million and Snap's $260 million.