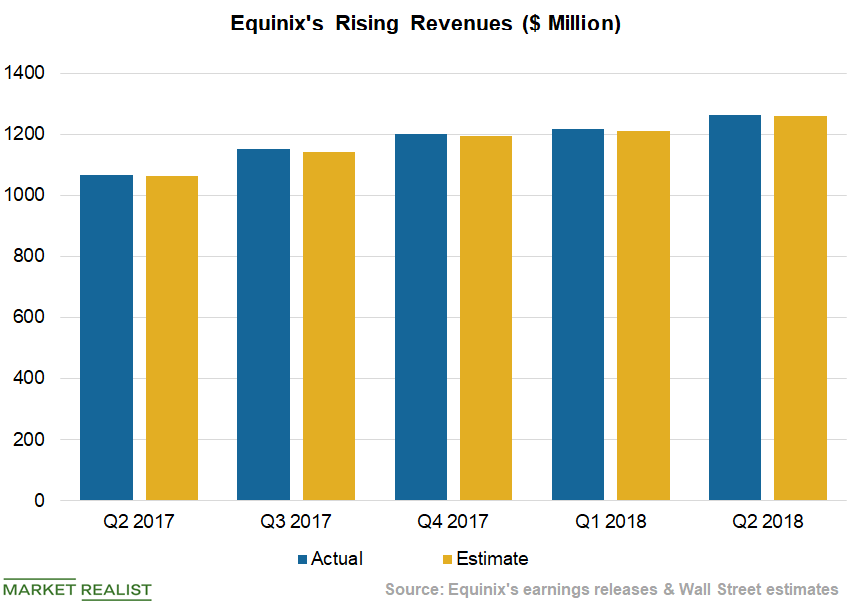 Equinix's Demand and Global Expansion Strategies
By Anirudha Bhagat

Aug. 9 2018, Updated 3:00 p.m. ET
Strong revenue growth
Equinix's (EQIX) second-quarter revenues increased 18% YoY (year-over-year) to $1.262 billion and marked sequential growth for the 62nd consecutive quarter. The quarterly revenues were ahead of analysts' estimates of $1.259 billion and matched the mid-point of management's guidance range of $1.257 billion–$1.267 billion (the mid-point is $1.262 billion).
The recurring revenues for the quarter grew 17.6% YoY to $1.188 billion, while non-recurring revenues increased 31.6% YoY to $74.2 million. Equinix recorded revenue growth across all three verticals and geographical regions. The company noted that enterprises' strong adoption of cloud services led to robust demand for its colocation and interconnection platforms, which boosted the second-quarter top-line results.
Article continues below advertisement
Driving factors
The data explosion from the smartphone revolution, social networking, and emerging tech trends like AI, Internet of Things, and online gaming, are driving the need for cloud storage. According to a report from MarketsandMarkets, the worldwide data center colocation market will grow at a compound annual growth rate of 14.6% and reach $62.3 billion by 2022 from $31.52 billion in 2017. Equinix is benefiting from the rising demand for data center space.
Acquisitions have been one of the key growth drivers for Equinix. The strategy brings in incremental revenues and expands footprints in new markets, which opens avenues for long-term growth. Last year, the company acquired data center assets from Verizon Communications (VZ), which brought in $133 million of revenues in the second quarter.
Equinix's acquisitions of Infomart Dallas and Metronode will likely boost its top-line results. The company expects that the buyouts of Infomart Dallas and Metronode will bring in incremental revenues of $35 million and $60 million, respectively, in 2018.
Article continues below advertisement
For the third quarter and fiscal 2018, Equinix projects revenues of $5.037 billion–$5.077 billion (the mid-point is $5.057 billion) and $1.272 billion–$1.282 billion (the mid-point is $1.277 billion), respectively. Wall Street's projection for the third quarter and fiscal 2018 is $1.290 and $5.083, respectively.