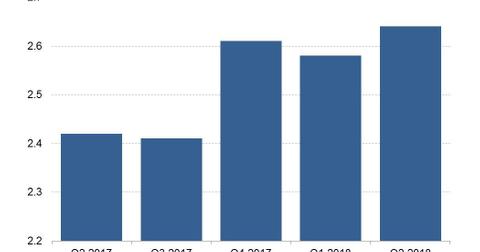 eBay Reclaims India Brand and Website
By Ruchi Gupta

Updated
Flipkart stops operating eBay.in
eBay (EBAY) has reclaimed its eBay India brand and eBay.in website. In 2017, eBay handed the properties to Flipkart as part of a deal that also saw it take a stake in Flipkart. In addition to transferring its India assets to Flipkart, eBay also teamed up with Microsoft (MSFT) and Tencent (TCEHY) to raise $1.4 billion for Flipkart last year.
eBay said in May that it wanted to sell its stake in Flipkart and subsequently terminate the agreement that allowed Flipkart to operate its India brand and marketplace website. Flipkart stopped operating the eBay India brand and eBay.in on August 14.
Article continues below advertisement
eBay expected to make $1.1 billion from Flipkart holding
In May, Walmart (WMT) announced that it was buying the majority stake in Flipkart for $16 billion. eBay took advantage of that opportunity to sell its Flipkart holding, and it expected to make $1.1 billion from that sale.
Relaunching in India
Reclaiming its India brand and website allows eBay to relaunch its operations in India. The company said it would initially focus on cross-border trade, which it has determined to be profitable as it relaunches in India.
Amazon (AMZN) is also a major player in India's e-commerce industry. The company has committed to invest more than $5.0 billion to grow its business in India.
eBay made a profit of $642.0 million on revenues of $2.6 billion in the second quarter. Its revenues rose 9.1% year-over-year in that quarter.