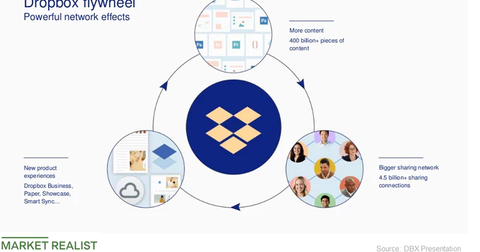 Dropbox: Competing with Tech Giants in Cloud Storage
By Adam Rogers

Updated
Dropbox upgrades storage plan
Dropbox was founded in 2007 and soon became one of the most widely adopted storage platforms globally, with more than 500.0 million registered users. Dropbox has 11.5 million paid users, and it estimated that ~80.0% of its users use Dropbox for business.
Although Dropbox (DBX) has been a successful unicorn, it directly competes with tech heavyweights such as Google (GOOG) (GOOGL), Amazon (AMZN), and Microsoft (MSFT) in the cloud storage space. A unicorn is a privately held startup company valued in excess of $1.0 billion. 
Article continues below advertisement
Dropbox recently announced that it would provide users of its Dropbox Professional and Business Standard accounts with additional storage space of 1 TB (terabyte). Dropbox currently provides storage of up to 2 TB for consumers priced at $199 per year, which equals $16.58 per month. Microsoft's OneDrive costs $6.99 per month for a 1 TB storage plan.
Comparatively, Google Drive charges $199 per month for storage up to 20 TB. Google had previously reduced its 2 TB (terabyte) storage plan from $19.99 per month to $9.99 per month. Google discontinued its 1 TB plan and has replaced it with a 200 GB (gigabyte) plan that costs $2.99 per month.
Yahoo and Amazon
Yahoo Mail is now a component of Verizon's (VZ) subsidiary Oath and has a 1 TB free storage plan with its email service. Comparatively, Amazon's 2 TB plan costs $199 per year.