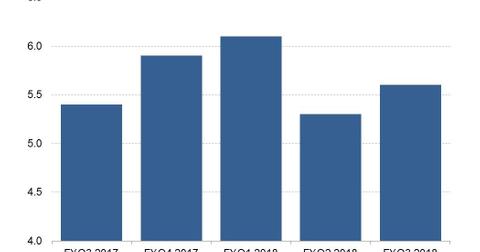 Did China Oppose Qualcomm's Purchase of NXP?
By Ruchi Gupta

Updated
Delayed China approval killed the deal
China said it wasn't to blame for the delay that led to Qualcomm (QCOM) terminating its deal to acquire NXP Semiconductors (NXPI). Qualcomm ended its pursuit of NXP after China failed to complete its regulatory review of the deal within the deadline. While Qualcomm and NXP had set the July 25 deadline for closing the deal, China wanted to be allowed until October 14 to complete its review of the deal.
China had raised competition concerns about the deal but said it was open to talks with Qualcomm to address those issues, the Wall Street Journal reported. Qualcomm had obtained regulatory approval for its NXP deal in all jurisdictions but China.
Article continues below advertisement
Qualcomm on the hook for $2 billion breakup fee
China's failure to approve the Qualcomm-NXP deal in time leaves Qualcomm on the hook for a $2.0 billion bill toward NXP in breakup fees. However, Qualcomm isn't the only company to be left with a bill to foot after a deal falls apart. In 2011, AT&T (T) paid $4.0 billion to T-Mobile (TMUS) after it failed to close the deal to buy its smaller rival. T-Mobile is now in the process of merging with Sprint (S). T-Mobile is expected to be liable for $600.0 million toward Sprint if it walks away from the deal.
Broadcom (AVGO), which tried to buy Qualcomm before the Trump administration intervened, had lined up an $8.0 billion breakup fee that it would surrender to Qualcomm in the event regulators blocked it from closing a deal.
Revenues rose 4.3%
Qualcomm had $35.9 billion in cash at the end of the June quarter, which is its fiscal third quarter. The company's revenues rose 4.3% year-over-year to $5.6 billion in that quarter.