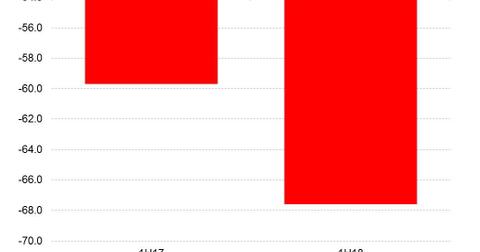 Can Merger Accelerate Vodafone's Path to Profit in Australia?
By Ruchi Gupta

Updated
First-half loss increased from last year
Vodafone Australia is in merger talks with its rival TPG Telecom. Vodafone Australia is a joint venture of UK-based Vodafone (VOD) and CK Hutchison Holdings, where each party owns an equal stake in the business.
The merger talks are driven by the understanding that Vodafone Australia and TPG are highly complementary companies. With about 6 million subscribers, Vodafone Australia ranks as Australia's third-largest wireless provider. But the business is unprofitable. Vodafone Australia suffered a $67.6 million loss in the first half of 2018. The loss ballooned from $59.7 million a year earlier.
Article continues below advertisement
Fierce competition
Vodafone Australia has been battling strong competition, including TPG, which has been trying to lure customers away from rivals with its steeply discounted service prices. As a result of the fierce competition, Vodafone Australia saw its average revenue per customer decline 1.3% in the first half of 2018.
Perhaps a merger with TPG could help Vodafone Australia reduce the competitive threat it faces. A merger could also provide an opportunity for Vodafone Australia and TPG to join forces in putting pressure on market leaders Telstra and Optus.
Vodafone seems to favor mergers
Vodafone appears to be favoring mergers to try to turn around its loss-making operations. Vodafone is about to close the merger of its Indian subsidiary with rival Idea Cellular.
But Vodafone is not alone in trying a merger to turn around struggling operations. In the United States, T-Mobile (TMUS) and Sprint (S) are seeking to combine, inspired by the understanding that they need to team up to better confront their larger rivals AT&T (T) and Verizon (VZ). While AT&T and Verizon are on track to launch 5G (fifth-generation) services in parts of America this year, T-Mobile and Sprint are not expected to start offering 5G services until maybe next year.