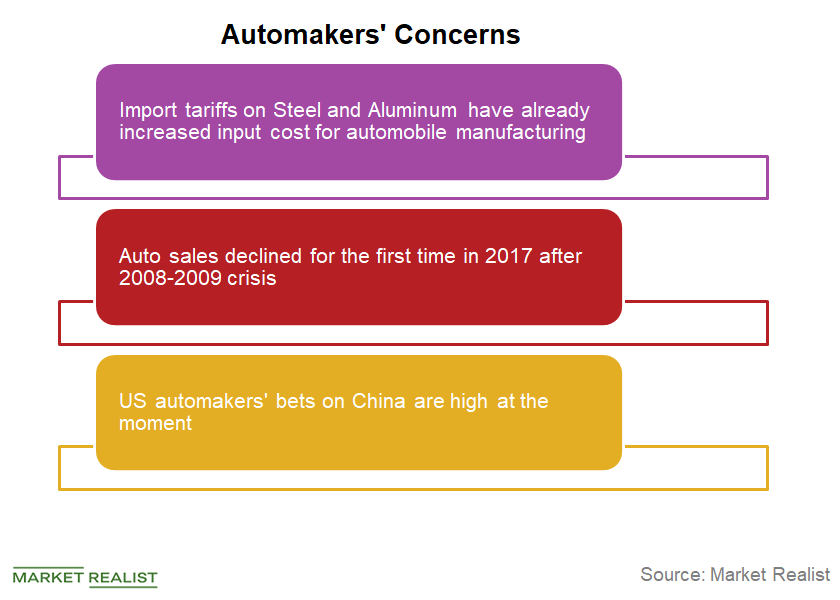 Can America Be Great Again without a Strong Auto Industry?
By Jitendra Parashar

Aug. 20 2018, Updated 8:42 a.m. ET
Trump's agenda
Since the time Donald Trump began his presidential campaign, he has targeted automakers (XLY) like Ford Motor Company (F) for the decision to move car production to Mexico. Since coming into power, Trump has kept a close eye on automakers to make sure they don't move their car production out of the US. On multiple occasions, the president has also threatened that companies including Harley-Davidson (HOG) and Ford should be ready to pay higher taxes if they move production outside the US.
Article continues below advertisement
Automakers' rising raw material costs
Earlier this year, in an effort to save the struggling American steel and aluminum industry, Trump decided to impose 25% and 10% tariffs on steel and aluminum, respectively. This move ignited a rally in US steel prices and physical aluminum premiums. Both of these commodities are key raw materials (DIA) for the auto sector, which is why rises in US steel prices and physical aluminum premiums have increased the raw material cost burden for companies including General Motors (GM), Ford, HOG, and Tesla (TSLA).
Is it making America great again?
Trump's battle with automakers could be seen as a part of his agenda of making America great again. Trump's focus has been on increasing auto production in the country to generate employment, which is certainly in line with promises made during the presidential campaign. However, the Trump administration has so far failed to take concrete measures to support the auto sector in creating more jobs without losing profits. It's nearly impossible to wish for a strong economy and jobs market with a struggling auto sector in a country.
We'll continue this discussion in the next part and see why the possibility of steep auto tariffs is haunting automakers and what it could mean for investors.