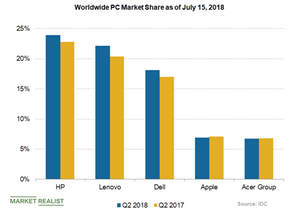 Apple Seeks to Gain from Its New MacBook Air and Mac Mini
By Sophia Nicholson

Aug. 21 2018, Published 3:11 p.m. ET
Apple to roll out low-cost laptops
Apple (AAPL) has recently announced it plans to launch a redesigned and lower-priced MacBook Air by the end of this year. The new version is set to have a similar display with a thinner bezel. Later this year, Apple is also launching a professional-focused, upgraded Mac mini (which was last upgraded in October 2014), and planning to debut three new iPhones, Apple Watches with larger screens, and new iPad Pros.
Article continues below advertisement
New Mac product line-up expected to boost sales
According to Bloomberg, the 12-inch MacBook, launched in 2015, starts at $1,300—unaffordable for a lot of consumers. The new MacBook Air will target consumers seeking a low-cost Apple computer. The launch of the new MacBook Air, set for October, is also expected to help students and schools, which buy laptops in bulk.
The revamped Mac mini desktops, geared toward professional users, are slated to have new storage and processor options. While they are also expected to be more expensive, they could boost the company's Mac product line, which has been underperforming for the last few years. In Q3 2018, Mac sales fell 5% YoY (year-over-year) to $5.3 billion, and Mac shipments fell 13% YoY. Mac sales and shipments also fell sequentially, by 9%.
Apple is fourth in the worldwide PC market
As shown in the chart above, HP (HPQ) has the largest share of the global PC market. PC makers Lenovo, Dell (DVMT), Apple, and Acer followed. In the second quarter, global PC shipments rose 2.7% YoY from 60.6 million units to 62.3 million. Apple's share of the global PC market was 6.9% at the end of Q2 2018 (Apple's fiscal Q3 3018), down from 7.1% in Q2 2017.