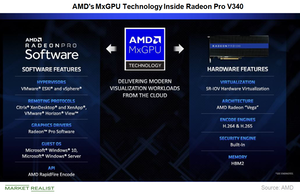 AMD's New Radeon Pro V340 Server GPU Raises Investor Optimism
By Puja Tayal

Updated
AMD stock reacts to server GPU announcement
Advanced Micro Devices (AMD) stock has been on a growth spree since August 20, hitting a new 52-week high of $27.30 on August 27. That was a day after the company released its Radeon server GPU (graphics processing unit).
At the VMworld conference on August 26, AMD's CEO Lisa Su announced the Radeon Pro V340 GPU built on its Vega architecture. The new GPU is designed specifically to accelerate data-center visualization workloads such as CAD (computer-aided design), rendering, and DaaS (desktop-as-a-service).
Article continues below advertisement
Features of Radeon Pro V340
The Radeon Pro V340 GPU features AMD's GPU virtualization hardware solution MxGPU technology that delivers faster, stable, and predictable performance in the highest user density. It's based on industry-standard SR-IOV (Single Root Input Output Virtualization) technology that allows several VMs (virtual machines) to access a single PCI (Peripheral Component Interconnect) Express hardware interface.
AMD's Radeon Pro V340 GPU has advanced security features that allow consumers to securely use VMs for graphic-intensive applications. The new GPUs would be compatible with VMware (VMW) and Citrix Workspace (CTXS).
Availability
The Radeon Pro V340 GPU is the flagship product of AMD's new Radeon Pro series. It's expected to hit the markets in the fourth quarter. AMD didn't reveal the price of the new GPU.
AMD competes with Nvidia (NVDA) in the GPU space. Nvidia is a leader in the AI GPU space, and Intel (INTC) is a leader in the server CPU space. AMD's new server products show that the company is on track to tap the high-margin server market and gain some share.
Next, we'll look at analysts' opinion about AMD's future growth potential.