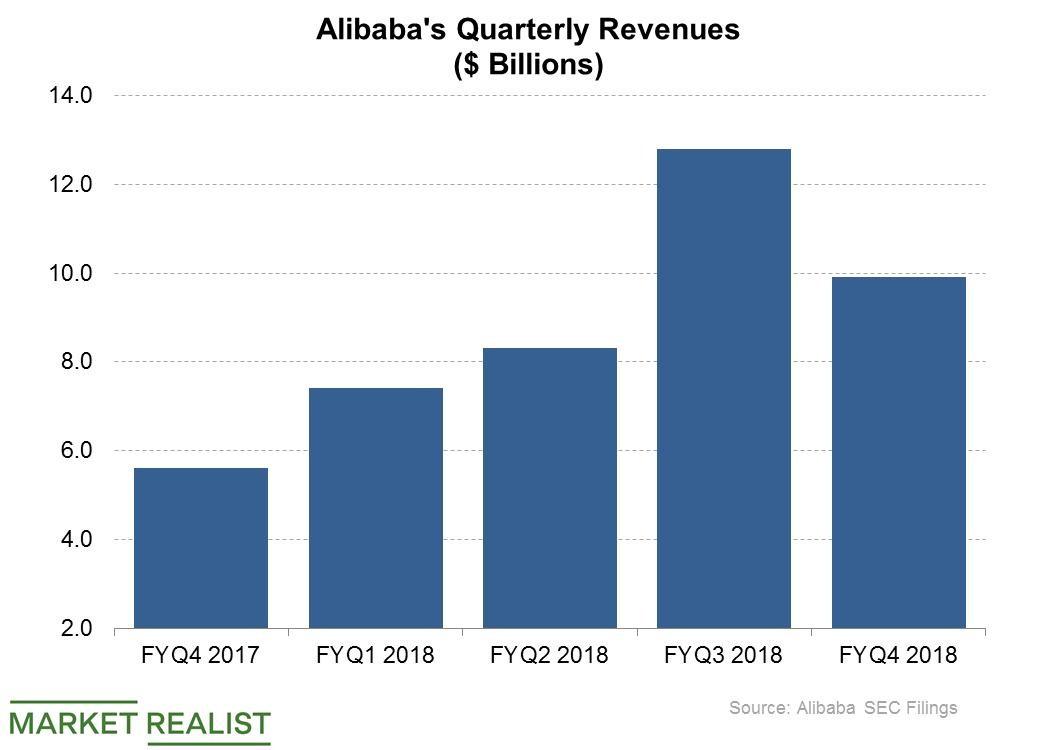 Alibaba to Deliver Starbucks through Ele.me
By Ruchi Gupta

Aug. 10 2018, Updated 9:00 a.m. ET
Starbucks controls 80% of China coffee market
Alibaba (BABA) is beginning to show why it decided to pay billions of dollars to take full ownership of Ele.me, as Alibaba has negotiated a huge delivery contract for the food delivery service company. Starbucks (SBUX) has signed Ele.me to deliver coffee to customers in China, according to a July 30 Wall Street Journal report.
Starbucks is China's leading coffee retailer, controlling more than 80.0% of the country's premium coffee market at the end of 2017, according to Euromonitor estimates. McDonald's (MCD) commands less than 10.0% of China's premium coffee market.
However, Starbucks is facing strong competition in China, with its Chinese sales falling 2.0% year-over-year in the second quarter. So, the company may be banking on delivery to boost Chinese sales by reaching customers where they are rather than waiting for them to come to the store.
Article continues below advertisement
Alibaba bought Baidu's stake in Ele.me
Alibaba said in April that it was taking full ownership of Ele.me at a valuation of $9.5 billion. Baidu (BIDU) held a minority stake in Ele.me, which it sold to Alibaba to allow it to consolidate its hold in the delivery startup.
In addition to charging a fee for delivering Starbucks coffee, Alibaba could also use the Starbucks relationship to drive the uptake of its Alipay mobile payment service. Alibaba suffered a setback earlier this year when Walmart (WMT) dropped Alipay as its preferred mobile payment service in stores in Western China. Walmart chose Tencent's (TCEHY) WeChat Pay instead.
Revenues rose 61%
Alibaba is in a tight race with Tencent to dominate China's food delivery and mobile payment markets. Tencent is an investor in Ele.me rival Meituan. Alibaba's revenues rose 61.0% year-over-year to $9.9 billion in the first quarter.