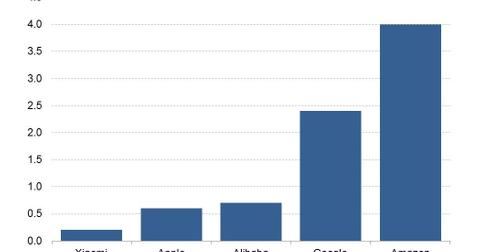 Yandex Registers for Smart Speaker Ranking
By Ruchi Gupta

Updated
Station speaker goes on sale
Yandex's (YNDX) smart speakers went on sale on July 10 as the company joined the ranks of Amazon (AMZN), Google (GOOGL), and Apple that already have smart speaker products in the market. Yandex's smart speaker sales began in Moscow, Russia.
Yandex's smart speakers, branded Station, went on sale early enough for the company to be considered in the ranking of smart speaker vendors in the third quarter. Apple's HomePod smart speaker went on sale on February 9, more than a month into the first quarter. Apple was ranked the world's fourth-largest smart speaker vendor in terms of unit shipments in the first quarter with a 6% market share, according to Strategy Analytics.
Article continues below advertisement
Amazon dominates smart speaker market
Amazon was the top smart speaker company in the first quarter, claiming 43.6% share of the global market after shipping 4 million units. Google came in second with a 26.5% share of the market. China's Alibaba was third with a 7.6% market share.
Microsoft (MSFT), which partnered with Harman Kardon to launch its Invoke speaker, was bundled with other smart speaker vendors that held less than 0.2% of the global market.
Google seen taking the lead by 2022
Yandex's Station smart speaker sells for $160, which is about a third of Apple's HomePod speaker. But Station is nearly three times more expensive than the budget speakers sold by Amazon and Google.
While Amazon currently dominates the smart speaker market, Google is seen taking the lead by 2022, according to Loup Venture estimates.
Spotify (SPOT) has also built a digital voice agent, signaling that it, too, could be eyeing the smart speaker market. Building a voice agent is one of the initial steps companies take before launching a smart speaker.