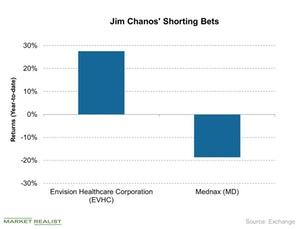 Will Jim Chanos's Short Bet on Mednax and Envision Be Profitable?
By Sarah Sands

Updated
Jim Chanos's short bet on Mednax and Envision Healthcare
Jim Chanos, the well-known short seller, said at the Delivering Alpha Conference that he's betting against two healthcare stocks: Mednax (MD) and Envision Healthcare Corporation (EVHC) in the present market (SPY) environment.
As we discussed in the previous article, Chanos is worried about the firms' cash flow positions. Positive cash flow can signal that management is very careful about the firm's day-to-day activities, the firm's cash inflows, and various expenditures. Chanos believes these two companies are using their cash position to cover up the mess the two companies have.
Chanos said, "They're not going bankrupt tomorrow. On the other hand, they need to keep financing themselves just to keep the illusion going." After the announcement of Chanos's latest view on these stocks, the stocks witnessed some nervousness on Wednesday, July 18.
Article continues below advertisement
Mednax and Envision Healthcare's (EVHC) stock price fell 1.45% and 1.72%, respectively, on Wednesday, July 18. On a year-to-date basis, these stocks have returned -18.7% and 27.5%, respectively, as of July 18. Jim Chanos initiated his short position on Mednax in mid-2017 and his short position on Envision Healthcare at the start of 2018. If these two stocks continue to show downward movements, then Jim Chanos's short position could prove advantageous.
In the next part of this series, we'll analyze Jim Chanos's latest view on Tesla.