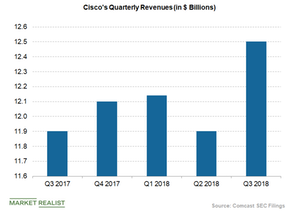 Will Amazon's Entry into Hardware Devices Hurt Cisco and Juniper?
By Sophia Nicholson

Updated
Amazon to sell switching devices
Amazon (AMZN) recently announced that it might start selling its own switching devices through its cloud unit, Amazon Web Services (or AWS), which could help shift traffic onto its own servers. Reportedly, by building its own devices, AWS is planning to grab a slice of the $14 billion global market for the equipment.
Article continues below advertisement
Amazon is a threat to rivals
The news of Amazon entering into the equipment market and considering selling its own network switching devices has unnerved rival data networking companies including Cisco Systems (CSCO), Juniper (JNPR), Arista Networks (ANET), and F5 Networks, as AWS could sell its switches at a lower price than the switches from rivals.
According to reports, AWS is considering rolling out its white-box switches at around 70% to 80% lower prices than Cisco's switches, thus posing a formidable threat to existing players. Cisco gets more than half of its revenue from the hardware market, which includes switches and routers. As a result of the news, Cisco stock fell more than 6% last Friday, while Arista was down as much as 6.2%. Juniper Networks fell around 4% on July 13. Broadcom (AVGO) dropped more than 3% last Friday after the news came out, as the company makes chips that are used in switching devices.
Amazon might face challenges
According to reports, Amazon is currently testing its products and is planning to release its switches within the next 18 months. However, there is a chance that Amazon might not bring them to market.
Though Amazon's foray into the data networking market has acted as a disruptive force for rivals, Amazon might also face challenges to building its presence in the well-entrenched networking market. Plus, Amazon could face significant sales challenges, convincing customers to swap existing gear. Despite the obstacles, Amazon is expected to build its network in the market owing to its pricing power.