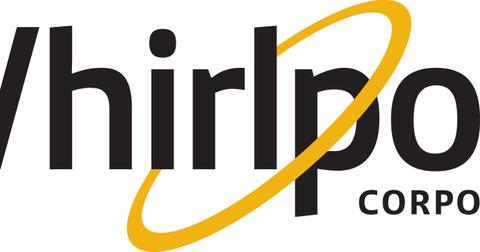 Why Whirlpool Corporation Is Tanking Over 13%
By Joey Solitro

Updated
Ouch, ouch, and ouch again…
Whirlpool Corporation (NYSE: WHR) is down 13.65% as of 10:00 A.M. EST following the release of its fiscal 2018 second-quarter earnings results after the market closed yesterday. The appliance giant's revenue decreased by 3.9% year-over-year to $5.14 billion and its adjusted EPS decreased by 1.5% year-over-year to $3.20; year-over-year declines are never what investors want to see, and to make matters worse, the results came up short of Wall Street's expectations of $5.29 billion in revenue and adjusted EPS of $3.69.
An important note to make is that Whirlpool cited "raw material inflation" as one of the primary reasons for its weak performance, which is clearly a result of the tariffs on steel and aluminum.
Article continues below advertisement
As a result of its weaker-than-expected performance in the first half of the year and the ongoing issues it's facing as a result of the tariffs, Whirlpool announced a reduction to its full-year outlook; the company now expects to generate EPS of $14.20–$14.80, which is down from its previous outlook of $14.50–$15.50, and free cash flow of approximately $850 million, which is down from its previous outlook of $1.0 billion–$1.1 billion.
Is the sell-off warranted?
As I think we can all agree, it wasn't a great report for Whirlpool. In fact, it achieved the negative—an earnings miss, year-over-year declines in revenue and EPS, and an outlook cut. For these reasons, the sell-off in its stock makes complete sense.
What should you do now?
That's the golden question. While Whirlpool now trades at just 9.1 times the median of its outlook for the full year of 2018 and yields 3.5%, I do not think now is the time to buy. If you are thinking about buying, you may want to consider 'the 3-day rule,' which states you should wait 3 days after a very weak earnings report before buying; this is because it will likely be hit with a string of downgrades by analysts who are late to the party and want to look smart, which should drive it even lower.
What do I think? I think there are better options in other industries, so you shouldn't waste your time trying to pick a bottom in a company whose entire product line relies on steel and aluminum.