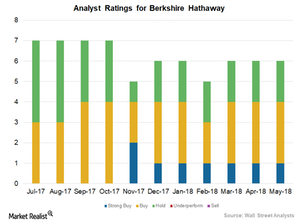 Why Wall Street Is Long on Berkshire Hathaway
By Robert Karr

Updated
Wall Street's view is stable
Berkshire Hathaway's (BRK.B) diversified performance, high stakes in manufacturing, BNSF rebound, and high liquidity for buying companies in the event of a steep stock price fall have made it a stable bet amid rising volatility.
The company is targeting another big-ticket acquisition that could improve its operating performance in the upcoming quarters.
Asset managers (XLF) are expected to see more flows toward alternatives than passive funds mainly due to a choppy and weak market as a result of contradicting data.
Berkshire has a next-12-month price target of $353,000, implying a potential 18.0% rise based on its current price. Five out of eight analysts have recommended "buy" ratings, and the remaining three have recommended "holds" on Berkshire in July.
Conglomerates, insurance ratings
Among Berkshire's insurance competitors, AIG (AIG) has garnered ten "strong buys" or "buys" out of 19 ratings. The stock has a one-year price target of $62.93 with an implied upside of 16.7% mainly due to a rise in its P&C (property and casualty) business alongside its investment income. Seven analysts have given it "hold" ratings, and two have recommended "underperform" or "sell" ratings.
Among conglomerates, General Electric (GE) has weaker ratings, with just seven out of 17 analysts recommending "buys" on the stock. Four analysts have given it "sell" recommendations, and the remaining six have recommended "holds" on the stock. The stock has fallen 47% over the past year.
Among Berkshire's, Chubb (CB) has 16 out of 19 "buy" ratings. One analyst has recommended a "hold," one has recommended an "underperform," and one has recommended a "sell" rating. The stock has a price target of $158.93, an implied upside of 19.4%.