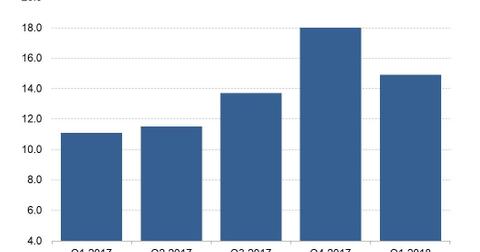 Why Amazon Pressed India to Rethink Plastic Regulation
By Ruchi Gupta

Updated
Plastic ban relaxed
Amazon (AMZN) is believed to have joined forces with fellow multinationals such as Coca-Cola (KO) and Pepsi (PEP) in intense lobbying that recently resulted in the Indian state of Maharashtra relaxing its tough regulations on the use of plastic packaging. On June 23, the state issued an order banning single-use plastic.
But the ban against single-use plastic didn't go down well with many businesses especially retailers and beverage makers that rely on plastic packaging, as the ban likely meant a dramatic increase in their costs.
Article continues below advertisement
Companies allow three months to prepare for plastic exit
Although Maharashtra has not entirely withdrawn its ban on plastics, it has softened the ban to allow businesses to adjust to the changes. The softening of the ban allows e-commerce companies in Maharashtra to continue using plastic packaging for three more months, according to Reuters citing a government order.
During the three-month period, e-commerce companies will have to figure out alternative packaging material. At the same time, the companies will have to develop a plan to collect and recycle or properly dispose of used plastic packaging materials.
India pushing toward complete plastic ban
Although the softening of Maharashtra's plastic ban should bring a sigh of relief to companies like Amazon who faced the risk of seeing their costs soar, the battle is not yet over. India is pushing toward the complete ban of single-use plastic by 2022.
Amazon's international operations generated revenue of $14.9 billion and suffered a $622 million operating loss in the first quarter. India is one of Amazon's most important overseas markets, but it is also a challenging one. In addition to tough regulations around packaging materials, Amazon also faces growing competition from Walmart (WMT) and Alibaba-backed (BABA) rivals in India's e-commerce industry.