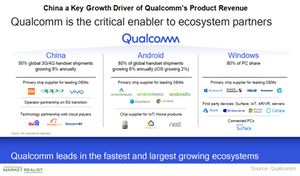 What Could Happen If China Delays Approval of Qualcomm-NXP Deal
By Puja Tayal

Nov. 20 2020, Updated 11:35 a.m. ET
Morgan Stanley urges Qualcomm to stick with the NXP deal
Qualcomm (QCOM) could exit the NXP Semiconductors (NXPI) deal if it fails to secure approval from China's (FXI) MOFCOM (Ministry of Commerce) by July 25. However, Morgan Stanley analysts are urging Qualcomm to extend the exit date indefinitely given the current geopolitical conditions.
According to FierceWireless, Morgan Stanley analysts once believed that the July 25 deadline was practical, as Qualcomm was trying to convince MOFCOM to approve the NXP deal, and the US-China trade disputes had not yet escalated into a trade war. They believed that Qualcomm would have secured China's approval in the absence of a trade war. However, the scenario has changed, according to the analysts, and as it's not known how long the war will last, they believe Qualcomm may be better off waiting for MOFCOM's decision and not walking out of the NXP deal.
The analysts argued that NXP is Qualcomm's best bet to expand beyond the smartphone market, where it is facing legal troubles. If Qualcomm walks out of the deal, the company may face investors' wrath as they are already disappointed with Qualcomm's declining returns.
Article continues below advertisement
Impact on Qualcomm
The US-China trade war could also impact Qualcomm's earnings, as it earns more than 60% of its revenue from China. China is also a major 5G (fifth-generation) market for Qualcomm. 5G technology could open new licensing avenues for Qualcomm, stretching beyond smartphones into automotive and IoT (Internet of Things) devices that use 5G connectivity.
The United States' main objective in its trade actions is to stop the transfer of critical technology such as 5G to China. If the Trump administration restricts Qualcomm's access to China's 5G market, the company's growth prospects could be severely impacted. Next, we'll see how a possible cancellation of the Qualcomm-NXP deal could impact shareholders.
Check out all the data we have added to our quote pages. Now you can get a valuation snapshot, earnings and revenue estimates, and historical data as well as dividend info. Take a look!