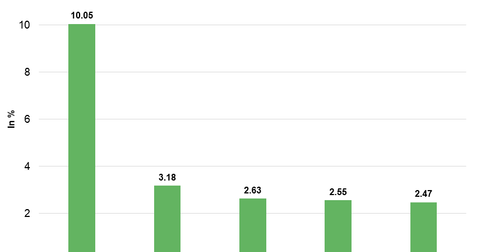 S&P 500's Top Gainers: Fastenal and Activision Blizzard
By Val Kensington

Updated
Top gainers
The S&P 500's top gainers on July 11 were:
Fastenal 
Fastenal, which is the largest fastener distributor in North America, was the S&P 500's top gainer on July 11. Fastenal started this week on a stronger note by rising on Monday. After a brief pullback on Tuesday, Fastenal opened higher on July 11 and rose to three-month high price levels.
The buying pressure in Fastenal increased on Wednesday following the release of the stronger-than-expected second-quarter earnings report. According to management, the EPS in the second quarter was $0.72—higher than analysts' forecast of $0.66. The sales in the second quarter rose to $1.3 billion—13% growth year-over-year. Cost-cutting in the second quarter improved Fastenal's performance. Analysts expected an EPS of $2.49 in fiscal 2018.
On July 11, Fastenal gained 10.05% and closed the day at $54.51. Fastenal is part of the S&P 500 Industrial sector, which declined 1.62% on Wednesday.
Activision Blizzard  
Activision Blizzard, which is an American interactive entertainment company, was the S&P 500's second-best performer on Wednesday. After declining for two consecutive trading days, Activision Blizzard opened lower on Wednesday. However, Activision Blizzard regained strength as the day progressed and rose to all-time high price levels.
The buying pressure increased on Wednesday as Activision Blizzard signed a multiyear deal with ESPN and Disney XD for live TV coverage of Overwatch League—an Esports league. Overwatch League is the first ESPN primetime coverage of a live competitive gaming event. On July 11, Activision Blizzard gained 3.18% and closed the day at $78.61. Activision Blizzard is a part of S&P 500 Information Technology sector, which gained 0.51% on Wednesday.
Next, we'll discuss how the US Dollar Index and Treasury yields performed in the early hours on July 12.