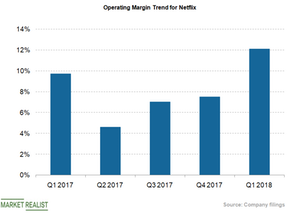 Rising Content Costs and Netflix's Operating Margin Guidance
By Aaron Hemsworth

Updated
Identifying key drivers
Leading video streaming operator Netflix (NFLX) expects its second-quarter operating margin to reach 11.9%, which is 730 basis points higher than its operating margin in the second quarter of 2017.
In the first quarter, Netflix generated one of the highest operating margins compared with the last five quarters. This improvement was fueled by the higher service rates in the US market and robust growth in international revenues. The ASP (average selling price) for the US and its international markets improved 12.0% and 13.0%, respectively, on an annualized basis.
From the graph above, we can see Netflix's operating margin trend in the last five quarters. In the first quarter, the company produced a double-digit operating margin for the first time. Netflix has set an operating income target of $469.0 million in the second quarter.
The company's huge investment in original content targeting different markets has started to pay dividends in terms of higher margins. Netflix expects its operating margin for fiscal 2018 to be 10.0%–11.0%.
Article continues below advertisement
Headwinds for margin growth
Netflix's diverse content portfolio is a key element of its success in the domestic market. The launch of more original shows for domestic and international audiences may drive its margins. However, the company's expenses for producing and acquiring original content is huge. The company expects to invest $7.5 billion–$8.0 billion on original content in fiscal 2018.
To gain traction in its international markets, Netflix expects to incur higher marketing expenses. In the last five quarters, its marketing costs grew at a CAGR (compound annual growth rate) of 15.3%.
The domestic market is highly competitive. Amazon (AMZN) offers both video streaming and free delivery of goods at an annual subscription of around $10 per month. Hulu is also creating a content portfolio with original series such as Difficult People and Casual. Hulu's subscription fee is about $8 per month.