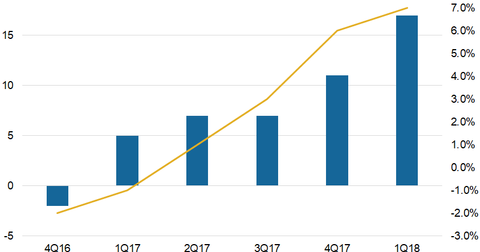 Retail Can Add More Assets to BlackRock's AUM in Q2
By Robert Karr

Updated
Retail expansion
Retail investors have increased their investments in the equity markets over the past few quarters. This trend is due to increased consumer confidence, rising equity markets, lower unemployment, and the growing global economy. However, recent volatility in the equity markets can put the brakes on retail investors increasing their exposure toward equities. 
Retail investors can target investments in alternatives and active funds in order to generate solid returns. Retail investors can also deploy funds in debt-related offerings.
Article continues below advertisement
In the first quarter, BlackRock's (BLK) Retail segment deployed $16.2 billion, which comprised $10.0 billion in fixed income, $4.2 billion in equities, and $2.0 billion in the multi-asset category. The Retail segment manages $638.4 billion in assets, which comprises 10.0% of the company's total AUM (assets under management). 
However, the Retail segment garnered 29.0% of the total base fees in the first quarter. The higher fees for every dollar managed reflects the segment's importance to the company's overall performance.
Preference for debt offerings
Retail investors have deployed new funds primarily in fixed income offerings over equity, mostly due to the higher valuations of equities. As the Fed is targeting faster rate hikes, debt funds also have been underperforming in the last few months. 
If the Trump administration's trade wars escalate and global growth weakens, global central bankers might consider slower rate hikes. In such a scenario, debt offerings might see some revaluation and higher pricing in the medium term.
Among the major asset managers (VFH), Goldman Sachs (GS) is focusing on investments and underwriting structured debt. JPMorgan Chase (JPM) is targeting strong debt offerings, and T. Rowe Price (TROW) is looking to widen mutual fund offerings to cater to different debt products.
BlackRock's Retail segment managed total base fees of $855.0 million in the first quarter. In the second quarter, fees can rise marginally on new fund flows toward debt offerings. 
Market corrections led to a $10.0 billion decline in portfolio values in the first quarter. However, there can be a marginal uptick in valuations in the second quarter due to recovery in the broad markets.