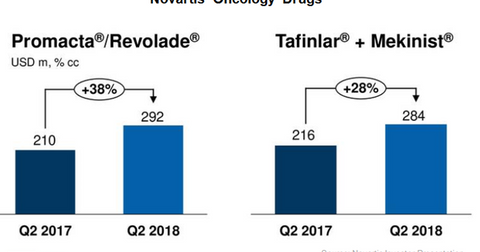 Novartis Is Focused on Advancing Its Oncology Portfolio in 2018
By Margaret Patrick

Updated
Promacta's growth trends
In the second quarter, Novartis' (NVS) thrombopoietin receptor agonist (or TPO-RA), Promacta, marketed under the brand name, Revolade, in certain international markets, reported revenues of ~$292.0 million, which is a YoY (year-over-year) rise of ~38.0%. 
This drug targets more than 300,000 patients diagnosed with chronic immune idiopathic thrombocytopenic purpura (or ITP) around the world annually. Promacta has been rapidly gaining market share owing to robust supporting clinical data coupled with ease of administration of the therapy.
Article continues below advertisement
Promacta is already approved in refractory severe aplastic anemia setting. On May 30, the company was granted priority review by the FDA for a combination regimen comprising of Promacta and standard immunosuppressive therapy. To learn more about Promacta, please refer to How Much Potential Does Promacta Hold?
Tafinlar + Mekinist growth trends
Tafinlar + Mekinist combination therapy secured FDA approval in BRAF V600E or 600F mutation-positive unresectable or metastatic melanoma indication in January 2014. The combination regimen targets more than 13,000 BRAF mutation-positive melanoma patients present in G7 countries. 
Based on the weighted average volumes of the drugs sold in 2017, Tafinlar + Mekinist therapy accounts for more than 70% market share in the targeted therapy segment for melanoma patients in G7 countries. This combination regimen is currently the market-leading therapy in this segment.
On April 30, this combination regimen also secured FDA approval as adjuvant therapy in a BRAF V600F or BRAF V600E mutation-positive melanoma indication. The company has already filed an application seeking approval in this indication in Europe. This label expansion is expected to expand the addressable market opportunity for Tafinlar + Mekinist combination therapy by around 50%.
Novartis is currently studying the Tafinlar + Mekinist combination regimen in combination with Anti-PD1 Antibody PDR001, in its ongoing Phase 3 trial, in melanoma indication. To learn more about Tafinlar + Mekinist combination therapy, please refer to How Is Novartis's Tafinlar+Mekinist Positioned for 2018?
In the next article, we'll discuss the factors driving adoption of Novartis's oncology drugs.