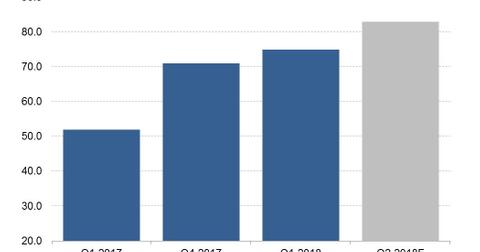 Is Spotify Prepared to Counter Growing Competition?
By Ruchi Gupta

Nov. 20 2020, Updated 5:01 p.m. ET
BBC launches new Spotify rival
A growing number of competitors are challenging Spotify (SPOT) including British broadcaster BBC. BBC recently launched a new online radio and podcast service called BBC Sounds, which aims to compete with Spotify, Apple Music, and Pandora (P) for listeners.
The BBC Sounds launched just a little over a month after Alphabet's (GOOGL) Google renewed its push for digital music revenues with the release of a new streaming music service called YouTube Music. And back in February, Amazon (AMZN) stirred the digital music scene with the roll-out of its Amazon Music streaming service in India, an important market for streaming music services because of its fast-growing online music market.
Article continues below advertisement
Surging competition can drive up market leaders' costs
Apple continues to sweeten its Apple Music service with videos in the midst of its heated competition with Spotify for paying subscribers. Pandora, which has Snapchat (SNAP) among its partners, is also waging a multipronged war with Spotify, where they are competing to attract both paying subscribers and free listeners who can help grow their advertising businesses. Spotify exited the first quarter with 75 million paying customers globally.
When competition explodes in a market, leading players usually feel a lot of pressure because they are the target of the competition. Sometimes market leaders respond to growing competition by boosting their marketing spending. But such a move can drive up expenses and in turn crimp profit margins.
Spotify is recruiting indie artists as it fights competition
In the case of Spotify, the company seems to have many options to fight back. We recently discussed how the company has begun licensing songs directly from independent musicians, a strategy that could help it expand its content library and differentiate its service. A more differentiated service would not only allow Spotify to improve customer retention but it could also create room to maximize customer value by getting them to sign up for premium plans.