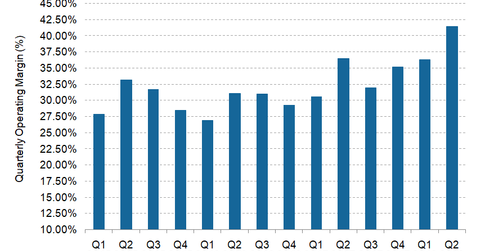 Is CSX the New Industry Leader in Operating Margins?
By Samuel Prince

Updated
CSX's second-quarter operating margin
In the second quarter, CSX's (CSX) operating margin set an all-time quarterly record in its history. The railroad achieved an operating margin of 41.4% in the quarter, up 880 basis points on a reported basis from 32.6% in the second quarter of 2017. On an adjusted basis, the company's second-quarter operating margin was up 4.9% from 36.5% in the same period last year.
While CSX's total operating revenues grew ~6.0% in the second quarter, its operating expenses declined ~8.0% due to the implementation of its Precision Scheduled Railroading model. We'll look into the major components of the company's operating expenses next.
Article continues below advertisement
Operating expenses
Labor and fringe expenses fell 11.0% to $669.0 million from $751.0 million in the second quarter of 2017. An 11.0% reduction in average manpower resulted in $82.0 million in savings. MSO (materials, supplies, and other) expenses declined 5.4% to $469.0 million from $496.0 million due to a $55.0 million gain in the second quarter of 2017. The gain was associated with a favorable legal judgment. Its MSO expenses were also lower due to reduced resource utilization.
CSX's second-quarter operating results benefited from a $37.0 million gain due to the sale of real estate. Fuel expenses jumped 36.4% to $270.0 million from $198.0 million. A 36.0% rise in the per-gallon price of diesel led the rise in its fuel costs.
Management outlook
On the labor and fringe expenses front, CSX aims to reduce its total workforce by 2,000 resources by the end of 2018. The railroad witnessed 7.0% YoY improvement in train velocity and 13.0% improvement in train length. 
CSX's active locomotive count declined 13.0%, resulting in 600 locomotives in storage amid increased volumes. On the fuel front, the company targets additional fuel savings through improved network fluidity, increased train length, and higher usage of fuel optimization technologies.
Is CSX the new leader?
So far, CSX, Union Pacific (UNP), and Canadian Pacific Railway (CP) have reported their second-quarter earnings. CSX's operating margins stand out among all these companies. If we look at the first-quarter margins, CSX is the clear Class I railroad (XTN) industry leader with a 36.3% operating margin. UNP and Kansas City Southern (KSU) had 35.4% and 34.2% operating margins, respectively, in that quarter.
Canadian Pacific Railway (CP) and Canadian National Railway (CNI) reported operating margins of 32.5% and 32.2%, respectively. BNSF Railway (BRK.B) and Norfolk Southern (NSC) had 31.1% and 30.7% operating margins, respectively, in the first quarter.
In the final section of this series, we'll turn to Thomson Reuters–surveyed analysts for their recommendations on CSX and its peers.