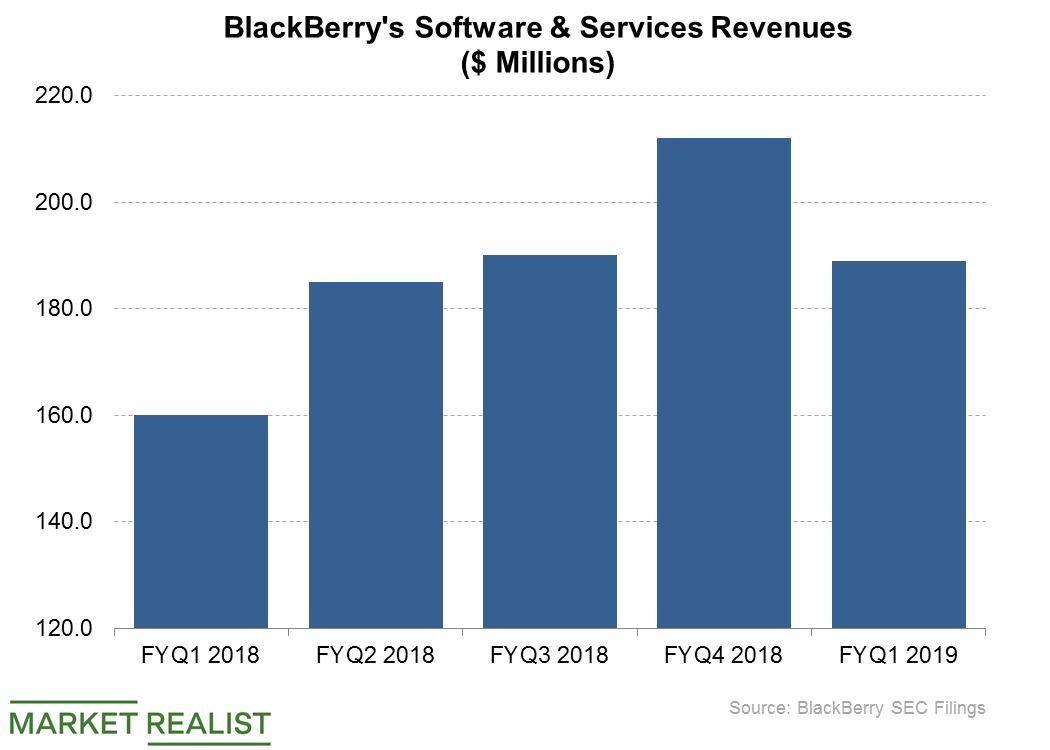 Is Blackberry's Software Bet Crumbling?
By Ruchi Gupta

Nov. 20 2020, Updated 4:40 p.m. ET
Revenue fell 9.4%
BlackBerry (BB) has focused on software and services as its core business since it lost ground to Apple and Samsung (SSNFL) in the smartphone market. Samsung was the world's top smartphone company last year after shipping more than 321 million units, according to Gartner.
Despite BlackBerry's pinning its hopes on its software and services business, investors appeared to question the company's bet on the business after it reported its results for the fiscal first quarter of 2019 (which ended on May 1), which fell compared to a year ago. On top of that, the company issued soft growth guidance for its core software business.
Article continues below advertisement
As a result, BlackBerry shares saw their biggest fall in a year soon after the results came out. Its revenue fell 9.4% YoY (year-over-year) to $213 million. The company also suffered a loss in its latest quarter. A year ago, its bottom line benefited from a $940 million arbitration payment it received from Qualcomm (QCOM).
BlackBerry signals slower growth in its core business
Despite growing its software and services revenue by 18% YoY to $189 million in the fiscal first quarter of 2019, BlackBerry expects slower growth for the business in the current fiscal year than in the previous fiscal year. BlackBerry expects its software and services revenue to grow by 8.0%–10% in fiscal 2019 (which will end in March 2019). Its software and services revenue rose 20% in fiscal 2018.
BlackBerry's software and services business contributes the majority of its overall revenue.
Business transitioning to a subscription model
While investors may be concerned about soft growth in BlackBerry's important software business, there is no cause for alarm. From what we've heard from the company, the lower growth guidance does not mean that BlackBerry's core software business is crumbling. Instead, the soft growth guidance for its software and services business is linked to its transition from selling perpetual software licenses to selling a subscription model.
Transitioning from a traditional software license model to a subscription model also disrupted growth at Oracle (ORCL) and Adobe System (ADBE) in the early stages.