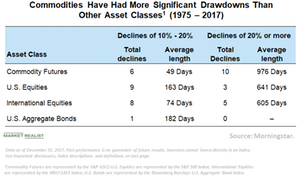 Implementing a Diversified Real Asset Strategy
By VanEck

Aug. 7 2018, Updated 8:26 a.m. ET
VanEck
Despite the potential benefits, the inherent volatility of real assets remains a concern for many investors. Commodities, which are typically associated with real assets, have historically experienced fewer and shorter moderate declines than global equities, yet they have more instances and longer periods of extreme declines.
We believe that a diversified strategy with the flexibility to adapt to changing market conditions may present an attractive opportunity. A diversified approach has historically helped reduce the risk of individual real asset sectors and resulted in a similar drawdown with less volatility relative to U.S. equities.
Article continues below advertisement
Market Realist
Real assets can be volatile
Some real assets can be volatile compared to traditional assets. For instance, commodities (DBC) (PDBC) tend to be more volatile than assets such as equities, bonds, and currencies.
According to an analysis by Andrew Hecht, a commodity trader, the quarterly volatility of crude oil (USO) ranged from 12.63% to ~90% from 1983 to 2017. On the other hand, volatility for natural gas fluctuated from 22.56% to ~80% during the same period. Natural gas volatility even exceeded 100% on multiple occasions on a shorter term basis.
Many agriculture commodities also exhibited higher volatilities than traditional assets. The quarterly historical volatility in soybeans ranged from ~10% to ~75% from 1970 to 2017. Similarly, the quarterly volatility in sugar futures has fluctuated from 10.5% to 100%. In coffee futures, it vacillated from ~11% to ~90%.
Merits of strategic allocation
Although real assets such as commodities show occasional volatility, they have the ability to generate higher risk-adjusted returns during inflationary periods. Consequently, real assets (VNQ) (IGF) should find a place in the strategic asset allocation mix of investors' portfolios. Nevertheless, it's important to understand the risk profile of each real asset because their benefits vary across the sub-asset classes.