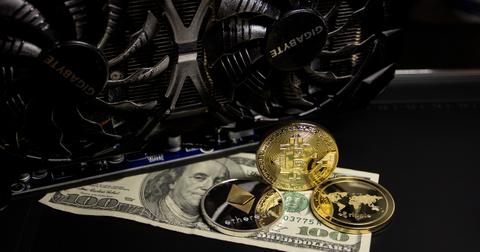 How the End of the Crypto Boom Affected the GPU Industry's Sales
By Puja Tayal

Updated
The end of the cryptocurrency boom
This year saw the peak of the cryptocurrency boom, with Ethereum prices reaching their maximum at the end of January. Rising Ethereum prices increased the margins earned by miners, encouraging more users to mine currency.
Because miners use Advanced Micro Devices' (AMD) and NVIDIA's (NVDA) discrete GPUs (graphics processing unit) to mine currency, the two companies saw windfall gains.
Miners consumed many of the GPUs on the market, leaving gamers empty-handed. The undersupply of GPUs escalated GPU prices. AMD and NVIDIA increased their GPU supplies to replenish inventory and make GPUs available to gamers. This development saw NVIDIA's foundry partner TSMC's (TSM) March sales rise 60% sequentially.
Article continues below advertisement
However, the crypto boom came to an end in March, and Ethereum prices started to fall as several events negatively affected the industry. The crypto market faced exchange hacks and stringent government regulations. Price manipulation schemes were also suspected. Falling Ethereum prices and rising GPU prices and utility costs discouraged potential users from mining currency, reducing demand for discrete GPUs. This saw chip makers with exposure to the crypto market witness sales falls.
How the boom's end affected the GPU industry
The slowdown in crypto demand saw GPU prices, which had escalated to three to four times their MSRPs (manufacturer suggested retail price) during the crypto boom, fall by up to 18% in April. Both AMD and NVIDIA reported lower earnings guidances for the second quarter on anticipation of falling crypto-related demand.
GPU prices fell throughout the second quarter and reached their MSRPs. NVIDIA expected the fall in GPU prices to help address the pent-up demand from gamers who could not buy GPUs during the crypto boom. However, things didn't happen as NVIDIA had expected, and the overall GPU industry saw a decline.
In the next article, we'll see how the second quarter shook out for the GPU industry.
Check out all the data we have added to our quote pages. Now you can get a valuation snapshot, earnings and revenue estimates, and historical data as well as dividend info. Take a look!