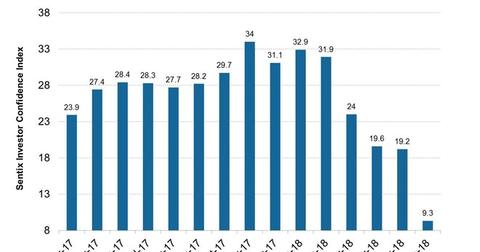 Deal or No Deal: Brexit Uncertainty Is Good for Gold
By Anuradha Garg

Updated
Brits decide to exit
On June 23, 2016, the world was caught by surprise when British citizens voted to leave the European Union (HEDJ) (VGK). Currency and equity markets were in turmoil as a result of the exit decision, while safe-haven assets including the US dollar, the Japanese yen, and gold surged.
Article continues below advertisement
Brexit uncertainty remains
After almost two years, the uncertainty related to Brexit could again come in as a support for gold and other precious metals. A major fight has erupted in the UK government regarding the handling of Brexit. On July 9, 2018, David Davis, the minister in charge of handling Brexit negotiations for the UK, resigned. Only hours later, Boris Johnson stepped down as UK Foreign Secretary over the terms of Brexit, which was followed by another exit from the cabinet. They had a difference of opinion over the handling of European Union negotiations with British Prime Minister Theresa May. May is proposing a soft Brexit, which would preserve many of the trade and regulatory ties between the European Union (or EU) and the UK. The dual resignations are being seen as a precursor to the leadership change. The cabinet is now divided between two camps, the ones proposing a "soft Brexit" as opposed to the ones proposing a "hard Brexit."
"No deal" Brexit could create chaos
Following these resignations, British Prime Minister Theresa May said that Parliament should prepare for several outcomes including the possibility of a "no deal" Brexit.
The challenge to the existing leadership in the UK and the possibility of a "no deal" both are negative for the business and economic certainty in the region. The effects of a "no deal" Brexit would likely be no less than chaos at least for some businesses including airlines (XTN). Brexit will continue to haunt businesses for a long time. Uncertainty, in turn, is positive for the safe-haven status of gold (NUGT) (GLD) and other precious metals.