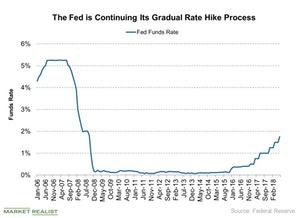 David Rubenstein Thinks Two More Rate Hikes Won't Hurt US Economy
By Sarah Sands

Updated
David Rubenstein on interest rate hikes
David Rubenstein, the co-founder and co-executive chair of the Carlyle Group, said at the Delivering Alpha Conference that further interest rate hikes likely won't damage the US economy (SPY).
Many market participants believe we could see two more interest rate (SHY) hikes in the rest of 2018. Strong economic data is strengthening the expectation for these hikes. Rubenstein said, "We think the economy is in reasonably good shape and can take two more 25 basis-point increases this year without any real disruption."
In June 2018, the Federal Reserve hiked its key interest rate by 25 basis points, the second rise in 2018, and it brought the key interest rate (TLT) within the range of 1.75% to 2.00%. It was the seventh time the Fed hiked its key interest rate since its first rate hike in December 2015.
Article continues below advertisement
A faster rate hike process generally slows down economic activity, as borrowing becomes costlier for investors and companies. Lower borrowing leads to lower capital expenditure and hampers economic activity. In the long run, we generally see the impact of higher interest rates. However, in the short term, rate hikes may not have a significant impact.
Rubenstein doesn't foresee "any evidence of a slowdown." He said, "You have to assume that you'll have some slowdown in the next five or six years and at that point be prepared for it. Right now, I think [Powell] feels the economy is doing reasonably well, and I do too."
In the next part of this series, we'll analyze David Rubenstein's view on how the US economy is doing under the Trump administration.