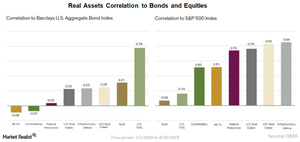 Current Economic Tailwinds Are Powering Real Assets
By VanEck

Jul. 24 2018, Updated 12:25 p.m. ET
VanEck
As the headwinds are likely to continue to dissipate, the potential benefits of real asset investing are coming into clearer focus. Notably, an allocation to real assets can be used to help investors enhance portfolio diversification, gain exposure to global growth, and hedge against the impact of inflation. As the current environment progresses, it is a good time to consider the impact of inflation and an allocation to real assets.
Article continues below advertisement
Market Realist
Real assets are worthy of consideration
With global growth and inflation picking up, real assets such as commodities (GSG) (DBC), property (IYR), infrastructure (IGF), and precious metals (GLD) provide investors with interesting alternatives. For instance, commodities offer exposure to global economic growth and also to opportunities in emerging economies such as China and India.
The shifting of the global policy stance from monetary stimulus to fiscal stimulus could also benefit real assets. Historical data suggest that real assets have the ability to survive the impact of rising inflation and policy tightening by the central banks.
Low correlation with financial assets 
In the current environment, characterized by higher economic growth and rising inflationary expectations, investors need to look beyond stocks and bonds to include asset classes that can help diversify a portfolio's risk and return profile. As shown in the chart above, real assets have a rather low correlation with financial assets such as stocks and bonds. Correlations are also low among the sectors comprising individual real asset categories.
Real assets have provided attractive risk-adjusted returns over a longer period of time because the dynamics of the underlying assets and their sensitivities to business cycles are different for each category.