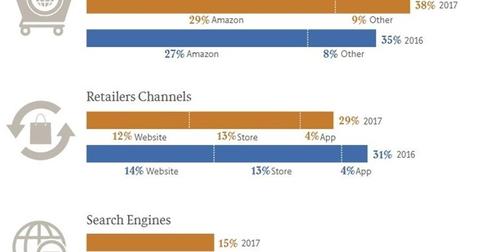 Could Hyperwallet Help PayPal Woo Amazon?
By Neha Gupta

Updated
Over 50% of online retail sales occur on marketplaces
PayPal (PYPL) recently agreed to buy payments platform Hyperwallet Systems for $400 million in cash. Hyperwallet was founded in 2000 and its business involves helping people and businesses receive payments for goods and services they sell on online marketplaces. PayPal moved to acquire the marketplace payments firm at a time when online shoppers are buying more from marketplaces. Trade magazine Internet Retailer estimates that more than half of global online retail sales occurred on marketplaces last year.
Other studies have also shown that marketplaces are where the majority of online shoppers begin their product search.
Article continues below advertisement
Hyperwallet serves Amazon traders
PayPal expects the acquisition of Hyperwallet to enhance its capabilities and allow it to better serve e-commerce and marketplace customers. PayPal has long pursued Amazon's (AMZN) business, and the acquisition of Hyperwallet could help it improve its appeal to marketplace operators like Amazon. Amazon marketplace traders in Australia are among Hyperwallet's customers.
Countering competition
The acquisition of Hyperwallet could also help strengthen PayPal's pushback against emerging rivals such as Adyen. Earlier this year, eBay (EBAY) said it was dropping PayPal for Adyen as its primary payment processor. Adyen also processes payments for online marketplace operators Etsy (ETSY) and Facebook (FB). Etsy operates an online craft marketplace. Its revenue jumped 25% YoY (year-over-year) in the first quarter. Revenue rose 49% YoY for Facebook in that period.