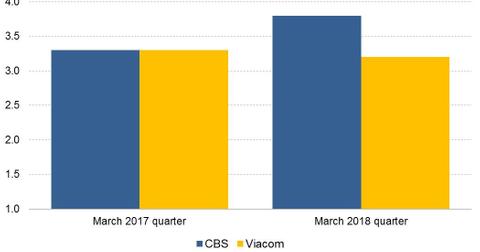 CBS and Viacom Are Free to Explore Their Own Paths after Showdown
By Ruchi Gupta

Updated
A 2016 merger attempt didn't go far
The first half of 2018 was characterized by bickering between CBS (CBS) and Viacom (VIA) (VIAB). The Redstone family, which controls both broadcasting powerhouses through an entity known as National Amusements, has long expressed interest in merging them.
In September 2016, National Amusements, whose chair is Shari Redstone, the daughter of media mogul Sumner Redstone, asked CBS and Viacom to explore a merger. But merger talks would be called off just a few months later.
Article continues below advertisement
Revived merger attempt spills the beans
In January this year, the Redstone family came back to the idea of merging CBS and Viacom. On April 3, CBS submitted a below-market bid for Viacom. Alongside the bid, CBS drew up a leadership line-up for the proposed combined company that would see CBS executives take the top senior roles. CBS's below-market bid and proposed leadership structure didn't go over well with Viacom and the Redstone family.
But the CBS-Viacom feud helped us learn that AT&T (T) wanted to buy CBS before it turned to Time Warner, which it recently acquired for $85.4 billion. We also learned that Verizon (VZ) had approached the Redstone family about buying CBS. The Redstone family wasn't interested in selling CBS alone. The family favored combining CBS with Viacom first—only then would it consider selling the combined entity.
CBS won't be forced into a merger with Viacom
The Redstone family is no longer interested in merging CBS and Viacom, according to court filings cited by the Wall Street Journal. This development should free CBS and Viacom to seek deals of their own. Perhaps whoever loses between the Walt Disney Company (DIS) and Comcast (CMCSA) in the bidding war for 21st Century Fox's (FOX) (FOXA) assets will turn to either CBS or Viacom for a deal.
CBS grew its revenue 12.5% YoY (year-over-year) to $3.8 billion in the first quarter, while Viacom's revenue fell 3.3% YoY to $3.2 billion in the same period.