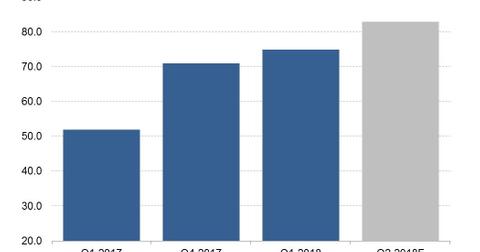 Can Spotify Stop Apple in Its Tracks?
By Ruchi Gupta

Updated
Apple poised to become top music service in US
Spotify (SPOT) is losing the US streaming music market to Apple, according to industry insiders who spoke to Financial Times recently. At the end of June, Spotify had 22 million to 22.5 million US subscribers. Apple had 21 million to 21.5 million US subscribers at the end of June. The figures show that Apple has significantly narrowed Spotify's lead in the US. A year ago, for example, Spotify had at least 4.0 million more subscribers than Apple in the US. Apple is expected to surpass Spotify by about 3.0 million subscribers in the US by the end of the year, according to industry insiders.
Article continues below advertisement
Spotify testing playlist feature
But Spotify is not about to go down in the US easily. The company is testing a feature that could help it pull more artists and listeners to its service or at least encourage them to remain loyal to the service. Spotify has created a new feature that makes it easier for artists and labels to submit new songs for editorial playlist consideration. The feature has been a top request, so it should excite Spotify members and potentially add to the appeal of its service.
75 million paying subscribers
Spotify exited the first quarter with 75 million paying customers globally. The company has a distribution partnership with AT&T (T) to help it reach new customers. Its rival Pandora (P) has similar arrangement with AT&T and another one with Snapchat (SNAP). Snapchat reaches more than 191 million people daily worldwide.
Amazon (AMZN), another streaming music provider, said in April that its music service has attracted tens of millions of subscribers.