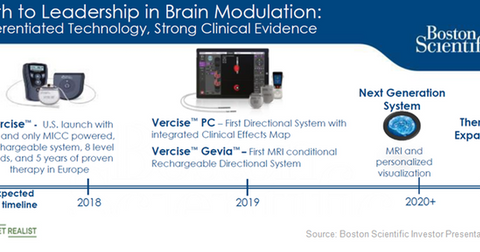 Boston Scientific's Deep Brain Stimulation Therapy Shows Promise
By Margaret Patrick

Updated
Deep-brain stimulation market opportunity
On December 11, 2017, Boston Scientific (BSX) secured FDA approval for its Vercise DBS (deep brain stimulation) system for alleviating symptoms in PD (Parkinson's disease) patients. The company estimates that ~10 million people worldwide and ~1 million people in the United States have PD, while ~40% of the global PD patient population has concerns about their current medications and at least 10% of these patients are eligible for DBS therapy. Currently, 14,000–15,000 patients per year are implanted with DBS therapy around the world. These statistics highlight the scale of unexplored opportunities in this area. Boston Scientific estimates the global market opportunity for DBS technologies to be close to $600 million.
Article continues below advertisement
Vercise system
The small and rechargeable Vercise DBS System was launched in the United States in Q1 2018. The device's multi-independent current control allows for the targeting and stimulation of the correct brain areas to treat PD symptoms. Unlike the DBS systems currently available in the United States, which are non-rechargeable and must be replaced after around three years, Vercise is rechargeable and can be used for up to 15 years.
Boston Scientific expects to launch Vercise PC, the first directional DBS system with clinical effect mapping, and Vercise Gevia, the first MRI[1.magnetic resonance imaging]-compliant rechargeable directional DBS system, this year. The company has been involved in more than 18 studies for building clinical evidence supporting various types of DBS systems.
On April 24, Boston Scientific announced positive data from its INTREPID study, demonstrating the safety and efficacy of Vercise in alleviating symptoms in patients with advanced PD who are responsive to levodopa.