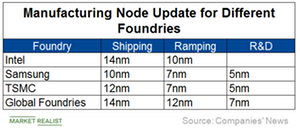 Behind the June 21 Resignation of Intel CEO Brian Krzanich
By Puja Tayal

Nov. 20 2020, Updated 5:06 p.m. ET
Behind Krzanich's resignation
Intel (INTC) stock has fallen significantly over the last few days. Its CEO, Brian Krzanich, resigned abruptly after serving the company for more than 35 years. He most recently served as the company's CEO for five years. In his place, Intel's board appointed CFO Bob Swan on an interim basis while the company searches for a new chief executive officer.
This turn of events came as a surprise to Intel's employees as well. As reported in a June 25 Business Insider article, Swan told the company's employees that he doesn't intend to pursue the CEO position on a permanent basis.
Article continues below advertisement
According to media reports, this turn of events started when the company's general counsel learned about Krzanich's relationship with an Intel employee on June 14. An investigation into the matter showed that the colleague reported the matter to the company's general counsel on June 14. A further investigation found the allegations to be true. The investigation showed that the relationship started in 2008 and ended in 2013.
Nomura Instinet's take on the matter
However, Nomura Instinet analyst Romit Shah believes there could be another reason for Krzanich's resignation. In a CNBC interview, Romit Shah stated that for the first time, Intel was losing its manufacturing lead to rivals Advanced Micro Devices (AMD) and TSMC (TSM) because of delays in its 10 nanometer node.
Shah discussed his recent meeting with Krzanich, who stated that Intel was expected to lose some server market share to AMD in the second half of the year. This is a market in which Intel has had over 99.0% share for several years. Losing foundry technology advantage to its competitors is a major event for Intel—especially for Krzanich, who rose to the position of CEO after running Intel's foundries.
Check out all the data we have added to our quote pages. Now you can get a valuation snapshot, earnings and revenue estimates, and historical data as well as dividend info. Take a look!